The folks at Booth Tarkington Civic Theatre, Beef & Boards, Footlite Musicals and other regional musical theater producers should be happy to learn that "The Addams Family," the oft-rewritten musical, is now in pretty good shape.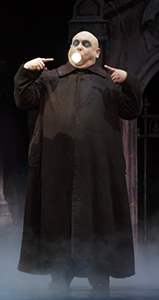 After a troubled run in Chicago and a critically bashed stint on Broadway, the show has been rewritten yet again by its creative team for its road tour (playing Clowes Hall through May 18). And these diligent folks have finally come up with a funny and coherent-enough book and a tuneful-enough score to place "The Addams Family" in the company of good-enough, commodity shows such as "Legally Blonde" and "Shrek." It will never be declared a masterpiece, but the show should provide a diversion for many years to come.
Alas, those future high school and community theater productions may well be graced with stronger casts than the one being offered in this tour. Apart from powerhouse vocalist Jennifer Fogarty as Wednesday and Shaun Rice in the charm role as Uncle Fester, these Addams' give grave performances, indeed. (One of the dubious advantages of such non-Equity tours is that you don't have to waste much time reading the program since none of the actors have done much that's remotely interesting.)
The plot mixes elements of "La Cage aux Folles" and "Guess Who's Coming to Dinner" with Wednesday bringing home a "normal" boyfriend and his parents for dinner. A little white lie Gomez tells Morticia leads to a friction in the family.
But the Addams' were never big on plot, so it's no surprise here that most of the pleasure comes from one liners (there's a classic about Grandma) and visual surprises (including a joyfully buoyant scene for Fester). Andrew Lippa's score includes a few merely functionable exercises but also catchy upbeat music for such songs as "One Normal Night," "Crazier Than You," and "Full Disclosure."  There's also a lovely song, "Happy/Sad," that would be a wedding staple by now if it came from a less eclectic show.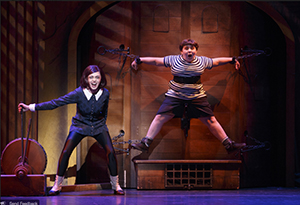 Please enable JavaScript to view this content.