This Thursday, the folks behind Saxony, the latest let's-make-a-town-from-scratch in Hamilton County, will be dedicating a new sculpture by Bloomington artist Dale Enochs. The piece will be a prominent part of the 725-acre housing/office/retail community.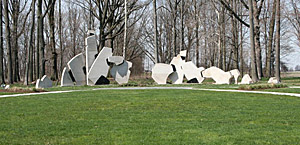 Not familiar with the artist? Enochs large-scale stone and bronze works prominent at White River Gardens (recall the water-covered "Mill Stone" and "Water Table" series), at the Governors' mansion, and on the campuses of Notre Dame, Wabash College, and Ball State. He also created the Indiana Firefighters' Memorial and has work as part of collections in Japan, Toronto and China.
For Saxony, Enochs' created "Rolling Rhythm," featuring linking limestone pieces. Check out the work-in-progress, above, and model, right.
Your thoughts—not only on the art itself, but also on public art in new developments?
Please enable JavaScript to view this content.