Chakaia Booker: Mass Transit, a public art display of nine original pieces and one existing sculpture, will be set up in downtown Indianapolis on July 14. Here's where to go to see them: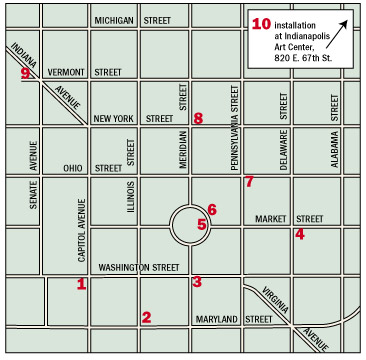 1. "Gridlock"
2. "Tailgaiting"
3. "Plus or Minus?" – Southeast Corner of Washington and Meridian streets.

The work resembles a lantern and may be illuminated. The artist is also considering a painted footrprint trail leading from Union Station to the piece, reflecting on the migration of African Americans from the south to the north and Indianapolis' role as a stop on the Underground Railroad.
Here's a photo of this piece in progress: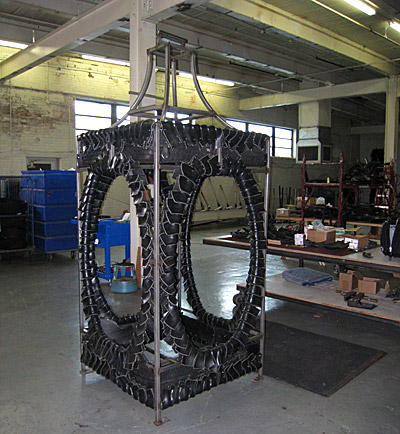 4. "Take Out" – Southeast corner of Delaware and East Market streets, in front of the City County Building.

This large piece resembles a large photo frame, allowing the viewer to look through the frame at the streetscape while also making himself the view for anyone standing on the opposite side.
5. "Layover" – East side of Soldiers & Sailors Monument, facing East Market Street.

This double-sided bench (made of woven tires of course) was placed so that people could sit on with a view of the monument of down East Market Street.
6. "One Way " – Chase Tower, north corner of Monument Circle and East Market Street.
7. "Sustainable Hope" – First Indiana Plaza, southeast corner of Pennsylvania and Ohio streets.
8. "Pass the Buck" – Southwest quadrant of University Park.
University Park is home to many statutes honoring noteworthy Hoosiers including the first Vice

President from Indiana, Schuyler Colfax, former Indiana Senator and later President Benjamin Harrison and Abraham Lincoln, who spent his boyhood in southern Indiana. Booker doesn't usually talk much about her work but she did meet with local historian Dona Stokes-Lucas and learned about Madam C.J. Walker, which may play into this piece.
9. "Holler" – Southwest corner of Indiana and Senate avenues, next to the Indianapolis Museum of Contemporary Art.

iMOCA will also have a concurrently running interior exhibit of Booker's work dubbed "Chakaia Booker: The Making of a Public Art Exhibition." It will display existing works and outline the process Booker went through to create "Chakaia Booker: Mass Transit."
10 –"Cross Over Effects" – 2003, Indianapolis Art Center's Artspark, 820 E. 67th Street. Here's what this pre-existing piece looks like, photo courtesy of Marlborough Gallery, New York.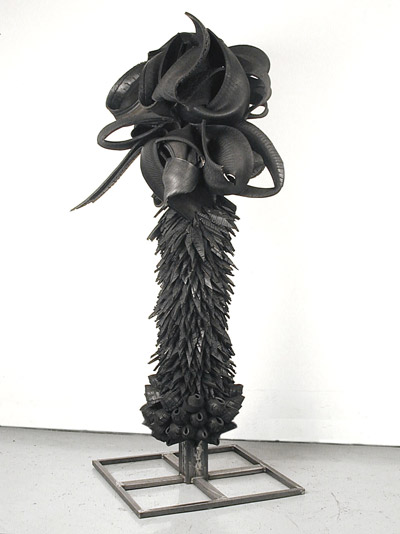 Here's the artist in full regalia. Photo copyright Chakaia Booker, provided by Marlborough Gallery, New York, taken by Nelson Tejada, 2003.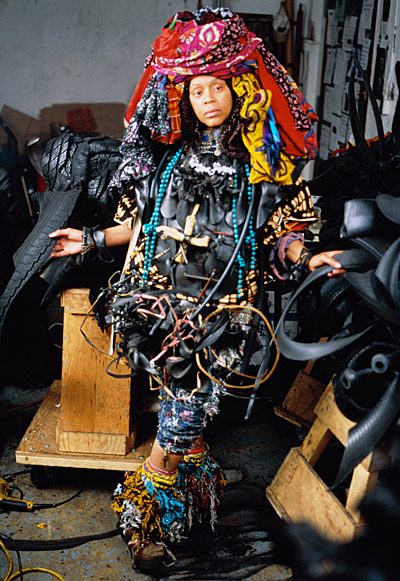 Please enable JavaScript to view this content.