Every once in a while, I'll turn the blog over to reporter Kathleen McLaughlin, who is now covering the arts business beat for IBJ. Welcome her aboard and look for her writing here and in the print edition of IBJ.
Take it away, Kathleen.
Local artist Jodie Hardy offers a different take on the messages transmitted through clothing store mannequins with "Silent Sellers," which is on display, appropriately, in the windows of the Chase tower parking garage on North Pennsylvania St.
Hardy's exhibit is part of the "Picture Windows: Urban Interpretations" series, sponsored by the Arts Council of Indianapolis.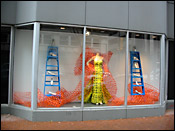 So far, the Arts Council has spent roughly $38,000 to commission 32 artists, who all display their work in the windows of downtown office buildings. The series is supported with a grant from the Cultural Development Commission. Insiders might recognize the Cultural Development Commission as the entity set up in 2001 to dole out $12.5 million in grants from the Capital Improvement Board and Lilly Endowment. Close readers will remember that the CDC is waiting on word from the Capital Improvement Board about how much money, if any, will be available in 2009.
Back to the art: Hardy is the first local artist chosen for what amounts to a solo exhibit. The Arts Council paid her $3,000. One part of "Silent Sellers" is a sort of giant shadow box, filled with Barbie dolls clad in yellow "caution" tape. IBJ A&E editor Lou Harry's two cents: It's better than the empty plastic bottles. (He's referring to "Thirst" by a Lance Allen, part of the previous installation by students at Herron School of Art and Design.)
More about the artist She's a former floral designer from the South Bend area who at age 45 went back to school for a bachelor of fine arts in costume design. She interrupted her education to take a job as the Indiana Repertory Theatre's costume shop assistant shop manager. She graduated from the Herron School of Art and Design in 2006, and has since been involved in the Zionsville Art Initiative, among other things. This year, Hardy was accepted to Herron's inaugural class for a master of fine arts in "visual art and civic life." Her most recent exhibit was "Re-Couture" at the Harrison Center for the Arts.



Your thoughts?
Please enable JavaScript to view this content.