Installation begins Monday on the 500 Festival 50th Anniversary Legacy Art Project at Celebration Plaza in White River State Park (near where the big guitar player was last year)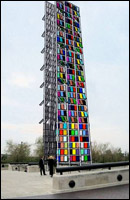 . 
So what sort of art does the Festival offer as a gift to the city? The wind-activated piece by Donald Lipski is called "The Tent." It's 43′ tall, 14′ wide, and will look like that picture you see on the right. Dedication is scheduled for Dec. 2.
You can find more images here.
And more on the artist here.
You thoughts?
Please enable JavaScript to view this content.