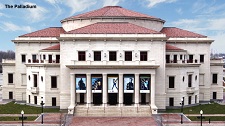 Spring performances at Carmel's 2-year-old Palladium are not expected to be affected by interior construction work at the venue set to begin in mid-April.
The $140,000 project, managed by Indianapolis-based contractor Shiel Sexton on behalf of the Carmel Redevelopment Commission, should last about three weeks.
Construction of the $119 million city-owned concert hall was halted in mid-2009 after an inspection revealed a rip in the structural steel supporting the venue's signature domed roof. Work resumed after extensive repairs, and the city in 2011 sued Michigan-based contractor Steel Supply & Engineering Co. for breach of contract and negligence.
The new roof work was recommended during a review conducted as part of the ongoing litigation, according to a city news release. Community relations spokeswoman Melanie Lentz declined to answer questions about the project, citing the pending lawsuit.
 
Crews will retrofit the roof trusses, the release said, welding additional stiffeners and small plates in place.
The Palladium is the centerpiece of the three-venue Center for the Performing Arts. IBJ reported last month that the theaters sold about 145,000 tickets during the 2011-2012 season.
Please enable JavaScript to view this content.