Best known for a line of T-shirts inspired by ugly Christmas sweaters, upstart Fishers clothing company Vardagen got an unexpected spring boost from a design created to raise money for victims of last month's Boston Marathon bombing.
The green shirts say "It is for love, not fear, that we run" and include the #IndylovesBoston Twitter tag line.
Owner Jared Ingold pledged $12 from each $22 shirt sold, aiming to cover expenses and collect $10,000 for One Fund Boston. But the T-shirts and tank tops introduced just before the 500 Festival Mini Marathon proved so popular Vardagen couldn't keep them in stock, sending donations past the $15,000 mark—so far.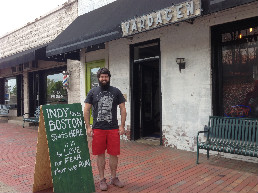 Jared Ingold's Fishers shop is selling T-shirts to raise money for victims of the Boston Marathon bombing (IBJ Photo/Andrea Muirragui Davis)
Now the five employees at sister screen-printing company The Art Press in Indianapolis are preparing for events surrounding the May 18 Geist Half Marathon. Vardagen has a booth at the pre-race expo, and Ingold hopes runners there are equally enthusiastic.
"When a tragedy like that happens, we always want to get involved, to help in some way," said Ingold, 30. "The response has been really great."
Although the T-shirt profits are headed to Boston, Vardagen should benefit from the attention it is getting. Ingold said several new customers have discovered the shop since the Mini Marathon, and web sales also have picked up.
"When we do something local, it reinforces the fact that we're here," he said.
Vardagen—Swedish for "everyday"—opened its retail location on 116th Street in downtown Fishers last fall. Sales were strong through the holiday shopping season, then dipped as other designs replaced snowflakes and reindeer.
Business is improving along with the weather, Ingold said.
"We're really happy with the way it's going," he said.
 
Please enable JavaScript to view this content.