It seems fitting that the first exhibit at Launch Fishers' new art gallery features iPhone photos.
After all, advances in mobile technology paved the way for co-working spaces like the 16,000-square-foot launch pad for high-potential enterprises.
Its iCreate show opens with a Friday night reception and runs through Sept. 14. Almost 80 pieces from four local artists will be on display—and available for purchase—at Launch, on the ground floor of the Hamilton East Public Library in Fishers.
(Only members can fire up their laptops and toil away at Launch, but the exhibit will be open to the public weekdays from 9 a.m. to 5 p.m. and by appointment.)
Although ever-present smartphones have unleashed a creative spirit in many of us, the artists' work is a far cry from the selfies that fill your Facebook feed.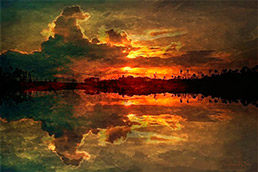 "Burning Ring of Fire" by Colman S. Love
Prices for the framed art—think archival glass and pigment-preserving ink—range from less than $100 to more than $3,000.
"Everyone can be a photographer nowadays," said volunteer organizer and artist Katz Lee Finch. "Not everyone is an artist."
All of the photographs in the show were either shot with an iPhone camera, modified with one of its myriad of photo-editing apps, or both.
Launch isn't taking a commission on work sold at the gallery, Finch said, but the not-for-profit will gladly accept any donations the artists choose to make.
Artists with work in the iCreate show are Finch, Rad A. Drew, Becky Brill and Colman S. Love.
Please enable JavaScript to view this content.