Fishers has its first mayoral candidate: Walt Kelly, a longtime Town Council president who resigned in 2001 as he ascended to managing partner of an accounting firm.
Now 64, Kelly knows what he wants to do when he retires at the end of the year.
"I'm interested in providing the leadership I think this community needs," he said Thursday, kicking off his campaign.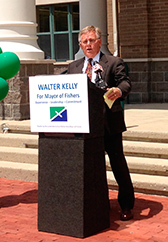 Walt Kelly wants to be Fishers' first mayor. (IBJ photo/Andrea Davis)
Residents of the fast-growing suburb voted in November to turn the town of 80,000 residents into a second-class city with an elected mayor and nine-member city council.
(The town is governed now by a seven-member town council that appoints a town manager to run day-to-day affairs.)
Its first election is set for next year.
Kelly was appointed to the Town Council in 1977 and went on to be elected to the position, serving as the panel's president for 17 years. He resigned because of professional obligations but remained interested in civic affairs.
Now Kelly is ready to get back in the game, vowing to provide the "stewardship, leadership, consistency and fairness" he said will be necessary to make the transition. He cited his collaborative capabilities, honed in both the public and private sectors.
"If I have any skills … it's the ability to hear divergent thoughts and views and somehow get the team to come together," he said. "I have the passion and the energy to do everything I can to make this a better place than I find it."
Kelly is proud of the fact he was never "unelected" from office and hopes to keep that Election Day record intact despite what is expected to be intense competition.
"I'm not running because I'm against things," he said. "I'm running because I have the ability, I think, and experience required" to keep the community moving forward.
What do you make of Kelly's candidacy? Does his early entry change anything for other mayoral hopefuls?
Please enable JavaScript to view this content.