Electric go-kart operator K1 Speed Inc. is asking the city of Noblesville to allow it to transform a vacant industrial building into an indoor racing center featuring a pair of high-tech tracks.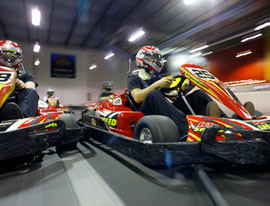 "Arrive and Drive" races cost about $20.(Photo courtesy of K1Speed.com)
Its sights are set on the former Helmer Scientific headquarters at 14395 Bergen Blvd., in the Saxony Corporate Campus near Interstate 69. Helmer, which makes laboratory equipment and refrigerated products, moved to a larger facility across the street last year.
California-based K1 Speed runs 17 kart racing centers, mostly in its home state and Texas. The closest to Indianapolis: two in suburban Chicago .
The Noblesville location—its first in Indiana—is expected to open in late September, pending necessary approvals from the Noblesville Plan Commission and the city's Common Council.
The 71,000-square-foot building wouldn't need any structural modifications, according to K1's request for the so-called "special consideration" required for indoor recreation uses in the industrial/office area.
In an application letter, company owner David Danglard described a "state-of-the-art" racing facility with two tracks, each about a third of a mile of twists, turns and speed-building straight-aways.
The Italian-made, high-performance karts are capable of going much faster than the 30 mph maximum speed, he wrote, but the limit is enforced electronically. Every lap is monitored, and operators can remotely controlling every kart on the track when needed for safety.
Computerized timing and scoring systems let drivers track their progress—and their competition. And the electric karts emit no fumes. Or noise.
K1 Speed typically targets industrial areas to be close to its biggest clients: corporations that use the facility for team building and special events.
When the center is not booked for a private party, it's open to the public for 10-minute "Arrive and Drive" sessions. Both a 14-lap adult race and a 12-lap junior race (for drivers younger than 18) cost about $20, according to the company's website. Discounted multi-race packages are available, too.
Like its brethren, the Noblesville facility also will sell refreshments (prudently non-alcoholic), racing apparel and memorabilia. It is expected to employ 40-45 people.
K1 Speed's  proposal is set for a public hearing at the Noblesville Plan Commission's Aug. 19 meeting. Commissioners will make a recommendation to the council, which makes the final decision.
So what's your take on the idea, North of 96th-ers? Do you feel the need for speed?
Please enable JavaScript to view this content.