Budding Fishers entrepreneurs (and relative newlyweds) Ross and Leslie Hanna are hitting the road this week with the newest addition to their family: Pearl, a 1964 Shasta camper that's been transformed into a mobile juicery and smoothie bar.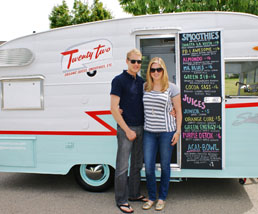 Twenty Two owners Ross and Leslie Hanna with their trailer, Pearl. (Photo courtesy of Twenty Two)
The Ball State University graduates, both 27, loved the idea of working together onboard their own food truck, but neither has a culinary background. Ross, a finance major, has been working in international commercial banking at JPMorgan Chase. Leslie, who studied telecommunications, has been running family business K.A.M. Graphics.
Then a friend introduced them to juicing.
"We got hooked," Leslie said of the nutrition-packed result of liquefying fresh fruit and vegetables.
So the couple experimented with juice recipes, whipped up some smoothies to appeal to less-adventurous palates and rescued their vintage trailer from a driveway in Illinois.
Now they're steering startup Twenty Two onto the increasingly crowded central Indiana market, offering food truck aficionados an alternative—or addition—to standard street fare.
The menu includes four juices ($5-$6), six smoothies ($6, plus $1 to add rice protein) and an Acai Bowl ($7, plus $1 for added protein) featuring blended acai berry and banana, topped with granola, cocoa nibs and more fruit.
The Hannas plan to buy fresh produce every day, doing prep work in a commercial kitchen before hitting the street. Everything on the menu will be made fresh to order.
Twenty Two has passed health department muster in Hamilton and Marion counties, and the Hannas' schedule filling up. They have four stops scheduled just this week: Tuesday in Fishers, Wednesday in downtown Indianapolis, Thursday in Carmel and Friday in Westfield. (Follow Twenty Two on Twitter for location updates.)
"It's not really fast food," Ross said, acknowledging it will be a challenge to serve large crowds quickly.
Still, they're hopeful their menu will appeal to the masses. There's only one "hard-core green drink," as Ross describes it, and he said the recipes do a good job of disguising the healthy ingredients—which can include as much as three pounds of produce in a single serving. And that's without any added syrup or sugar.
"We made sure it all tastes good," he said.
The couple sold both their cars to buy and equip the trailer and a small SUV to pull it, covering the estimated $15,000-$20,000 in startup expenses without a loan.
They picked the name Twenty Two because of the significance of the number in their lives: Both Ross and Leslie were born on the 22nd (of different months), and they'll celebrate their first anniversary on Sept. 22.
Please enable JavaScript to view this content.