The landmark Uptown Café in downtown Noblesville is expected to reopen next month with new operators behind the counter.
Scott and Jennifer Horsfield, owners of Sunrise Café in Fishers, have signed a five-year deal for the space in a 130-year-old building at the corner of Conner and 8th streets on the courthouse square. They're calling the Noblesville location Sunrise Café @ Uptown.
The breakfast-and-lunch spot closed Aug. 31, at the end of previous operator Kristie Whitesell's lease. Whitesell told customers on Facebook that she is "moving on to get married and have a family and start the next chapter of my life."
Whitesell took over the café in 2008, soon after Noblesville businessman Jay Merrell bought the building in hopes of preserving it—and its longstanding restaurant, which had been closed for about nine months at the time.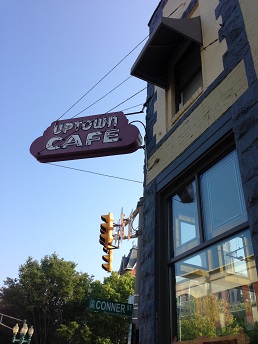 The Uptown has been on Noblesville's courthouse square since the mid-1930s. (IBJ Photo/Andrea Muirragui Davis)
"You have to be really, really old to remember when that was anything other than the Uptown Café," he said. "With all the other development occurring away from downtown, it's nice to have a good, solid business on the square."
The building, erected in 1883, started out as a shoe store and saw other uses before the Uptown opened its doors in the mid-1930s, Merrell said.
The Horsfields, who live in Noblesville, have high hopes for continuing its long run.
Scott Horsfield, 50, grew up working in his father's restaurants, including Noble Roman's and Arby's. He started Sunrise Café near Keystone at the Crossing after graduating from college 28 years ago, and moved to Fishers in 2003 after a lease dispute. (His brother owns Sunrise Café Carmel.)
Horsfield said the 38-seat Uptown will keep its small-town feel despite some equipment upgrades. The most noticeable difference: It will be open on Mondays.
"This will always be the Uptown," he said.
That's welcome news in the community.
"Any of us who grew up in the area grew up with the Uptown," Chamber of Commerce chief Sharon McMahon said, adding that she has photos of her family eating there over the years. "We are very pleased that the restaurant is going to continue. It's well-recognized as an anchor in downtown Noblesville."
Please enable JavaScript to view this content.