St. Louis-based Drury Hotels Co. is planning its third Indianapolis-area location: A 10-story Drury Plaza Hotel slated for the northeast corner of 96th and Meridian streets, overlooking Interstate 465.
Preliminary plans were filed with a rezoning request in Carmel last month. Drury is proposing a planned unit development ordinance that would govern design standards on the site.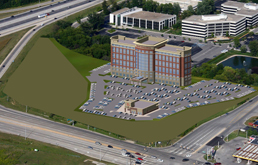 A 10-story Drury Plaza Hotel is slated for a 10.5-acre site on the northeast corner of 96th and Meridian streets. (Image courtesy of Drury Development Corp.)
The 10.5-acre property, located just west of the Parkwood Crossing office park, also would include a stand-alone restaurant along the lines of Bonefish Grill, Seasons 52 or Ocean Prime.
The family-owned hotel chain operates six other upscale Drury Plaza Hotels in the Midwest and Texas. All told, Drury has 130 hotels in 20 states; it operates a Drury Inn on Michigan Road in Indianapolis and a Drury Inn & Suites on Shadeland Avenue.
The new location would include a hotel of at least 160,000 square feet and a 5,000-square-foot or larger restaurant, according to Drury's proposal. A minimum of 380 parking spaces—and 10 spots for bicycle parking—would be provided.
Carmel's comprehensive land-use plan identifies the property as an "employment node" targeted for six- to 10-story commercial buildings that serve businesses and their employees. Drury hopes to make the case that a hotel and restaurant fit the bill.
The Carmel Plan Commission is expected to take up the PUD request at its November meeting. Final approval would have to come from City Council.
Please enable JavaScript to view this content.