A band of Mass Ave merrymakers are heading north for the holidays, opening a pop-up shop in downtown Carmel.
The Twelve Days of Mass Ave opens Friday at 110 W. Main St., offering a sampling of goodies from eight retailers looking to strengthen their suburban appeal. The store will be open Fridays, Saturdays and Sundays for four weeks.
"It is an introduction to what Mass Ave has to offer," said Kristin Kohn, owner of the popular Silver in the City/At Home in the City boutique and leader of the Mass Ave Merchants Association. One of Indianapolis' six cultural districts, the urban avenue is an arts and theater hub known for its dining, shopping and nightlife.
Its eclectic, homegrown businesses—Silver in the City, Crimson Tate Modern Quilter, Nurture Baby, Handmade Promenade, The Best Chocolate in Town, Global Gifts, Mass Ave Toys and People for Urban Progress—would seem a good fit for Carmel's upstart Arts & Design District.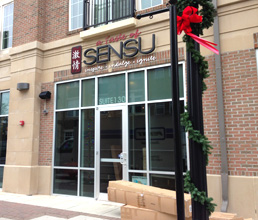 The Mass Ave retailers also will fill 1,000 square feet on Main Street vacated by Taste of Sensu. (IBJ Photo)
Kohn said her shop and most of the others already draw customers from Carmel and points north, but it never hurts to remind them they're around. And she still meets suburbanites discovering Silver in the City (and Mass Ave) for the first time.
"Isn't that great? After 13 years, there's still this untapped market for our business," she said. "That gives us the potential to grow our customer base."
Twelve Days also fills 1,000 square feet of Main Street space left vacant when A Taste of Sensu restaurant closed this spring. Such turnover is inevitable given the volatile nature of retail, and Kohn said the pop-up shop is a creative solution.
The idea originated with Riley Area Development Corp. exec Eric Strickland, she said, and the community development organization worked out a short-term deal with building owner Keystone Realty Group.
Participating retailers contributed store fixtures, merchandise and staff, said Kay Feeney Caito, marketing manager for locally owned Mass Ave Toys.
"It's a really neat adventure to do this with our fellow retailers on the avenue," Kohn said. "We each have said there is no way we would do this on our own this time of year. … [But] it's only 12 days. And we're working on it together."
Kohn said the collaborative "taste of" concept could work in reverse, too, if suburban enterprises wanted to test the waters on Mass Ave.
Please enable JavaScript to view this content.