Planning for a riverfront park in downtown Noblesville is almost complete, but next comes the hard part—figuring out how much of its wish list the city can afford to bring to life.
"As with most projects, there will be some scaling once we get a better idea of the costs," said Deputy Mayor Mike Hendricks, who is managing the project.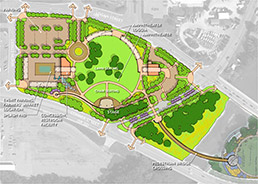 An open-air amphitheater is the centerpiece of the planned park. (Site plan courtesy city of Noblesville)
Not up for debate: an outdoor amphitheater and a pedestrian bridge spanning the White River.
The park is slated for almost 7 acres of flood-prone land between State Road 32 and Logan Street, along the west side of the river. A bridge would provide a  key connection to Noblesville's courthouse square and the heart of downtown, including the work-in-progress RiverWalk path along the eastern banks (developed in collaboration with Hamilton County).
 
Officials hope the project unites the city's core business district, making it "one cohesive unit that just happens to have a waterway running through it," Hendricks said.
In addition to providing community gathering space, the open-air amphitheater would be a permanent home for the Noblesville Cultural Arts Commission's Shakespeare in the Park series. It also could house the city's free summer concerts and the summer farmers market.
Also on the drawing board: a splash pad, trails and shelters.
Organizers are striving to inject some historical elements in the park to tell Noblesville's story. A retaining wall could serve as a city timeline of sorts, for example, and the bridge likely will pay homeage to the area's railroad heritage.
City leaders are still negotiating with two property owners for the bulk of the land, and the Common Council last month authorized officials to get appraisals on an adjacent parcel owned by Ameriana Bank in hopes of acquiring it, too.
As IBJ reported in August, the site is part of Noblesville's so-called Westside Gateway planned development district, an area targeted for growth since 2007. The recession stalled efforts to encourage commercial development there.
The park design work is being funded with proceeds from the city's downtown tax-increment financing district, municipal attorney Mike Howard told the council.
Please enable JavaScript to view this content.