It's been a decade since neighbors lost a hard-fought battle to keep retail development away from the northeast corner of Spring Mill Road and 161st Street.
Now they're working with Westfield planners to create a vision for the area that will guide future growth.
"We could either sit back and wait until something happens to us, or we could get involved and say 'This is what we prefer,'" said Chris Bluto, a neighbor who is helping to lead the initiative.
"There has always been a push for commercial at this corner," he added. "If somebody knocks on your door enough, eventually you have to answer."
No one rolled out the welcome mat for the Kroger-anchored shopping center approved in 2003 after a heated zoning battle that ended up in court. But Springmill Commons stays busy despite the backlash, driving developer interest.
"Every year we get someone coming in with a proposal for one of the three remaining corners," said Mayor Andy Cook. "It gets everyone all fired up again."
So in 2012, when Cooperstown Partners pitched a plan for a four-building commercial cluster that included a Walgreens pharmacy, the city asked neighbors to think about what they'd like to see at the intersection and suggest an update to Westfield's comprehensive plan. (Cooperstown agreed to put its plans on hold in the meantime.)
The volunteer group spent about a year batting around ideas and visiting other areas that have successfully integrated housing and retail. Members are increasingly open to the idea of commercial convenience, Bluto said, but not at the expense of the area's residential nature.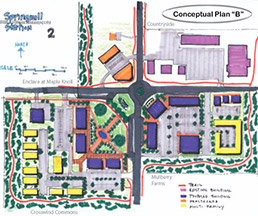 One of the preliminary concept plans for Spring Mill Station.(Rendering courtesy city of Westfield)
Last month, the group unveiled preliminary plans for Spring Mill Station, a railroad-themed neighborhood hub organizers hope will fit the bill. Think public art, green space and multiuse trails that create a village feel. Suggested uses include retail, restaurants, offices and health care, with apartments, senior living and the like providing a gradual transition to existing single-family homes.
"It's somewhere you could stop for dinner and know you'll run into someone from the neighborhood," Bluto said.
Dozens of residents turned out last month at an open house where organizers provided an early look at the plans, offering suggestions the team will use to fine-tune the proposal before introducing it to City Council.
Bluto said the feedback was generally positive, and he's encouraged that the city is interested in residents' concerns. Cook is happy to have the help.
"It's a fun exercise," said the mayor, who got the first look at the group's plans at its December open house.
Please enable JavaScript to view this content.