FatAtom Marketing is moving from Main Street to the Monon.
The Carmel ad shop has signed a letter of intent to lease a first-floor storefront in the under-construction Mezz on the Monon building in Carmel City Center. CEO Todd Muffley is targeting a June 1 move-in date.
His growing agency now occupies about 1,400 square feet in two offices on Main Street in the heart of Carmel's Arts & Design District. The Mezz offers similar visibility, more room—about 2,000 square feet—and even better access to the Monon Greenway.
"We'll be five feet from the trail, with floor-to-ceiling windows," Muffley said.
Named for  the swanky mezzanine-level seating at the nearby Palladium concert hall, developer Anderson Birkla's $6 million The Mezz project includes a pair of five-story mixed-use structures flanking the existing James Building (home to the Tarkington Theater and some office tenants).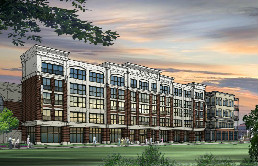 FatAtom will occupy 2,000 square feet at the north end of Mezz on the Monon. (Rendering courtesy of CSO Architects/city of Carmel)
A total of 44 high-end apartments are planned for the buildings' upper levels.
The 25,000-square-foot Mezz on the Monon will have two ground-floor tenants overlooking the Monon: FatAtom and a fitness center/lounge for apartment residents.
On the other side of the James, along Third Avenue, the first floor of the 40,000-square-foot Mezz on Third will house Anderson Birkla's corporate headquarters.
Muffley said he wanted to keep the company in Carmel, and the new location provides "grown-up space" for the eclectic agency he founded in 2005 as Plan B Marketing.
The firm's current lease expires at the end of May, but he didn't even consider moving to more buttoned-up digs in one of the office buildings that line Meridian Street.
"I didn't want to be cooped up in traditional office space," he said.
Please enable JavaScript to view this content.