Edward Rose Properties' proposal to develop an $80 million project advanced this week when the Carmel Plan Commission signed off on a rezoning request for the 30-acre property.
As IBJ reported in January, the Michigan-based apartment specialist is seeking approval for "The District," a mixed-use development southwest of the roundabout at Old Meridian and Main Streets.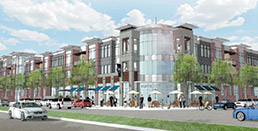 Edward Rose's proposed mixed-use project would include two retail "nodes" along Old Meridian Street. (Rendering courtesy of Edward Rose and Sons.)
Preliminary plans calls for 400 apartments—including some wrapped around a four-story parking garage and some above-ground-floor retail space—along with 65 single-family town homes, a senior-living facility and a boutique hotel.
Two stand-alone retail buildings of no more than 20,000 square feet would join the hotel on Main Street, and two 10,000-square-foot retail "nodes" are planned for the project's Old Meridian frontage.
The Edward Rose property wraps around a 5.3-acre parcel at the intersection, where Indianapolis-based Keystone Realty Group is proposing to build Sophia Pointe, a high-end apartment and retail project. (The Plan Commission's special studies committee will review that proposal next month.) Its neighbor to the west would be Rose's existing Alexandria Apartments, which has about 325 units.
This week, Plan Commission members voted 8-1 to forward Edward Rose's plans to the City Council with a positive recommendation. The council has the final say on so-called planned unit development requests, which establish project-specific rules and development standards.
Rose's team has been working with city staff to address concerns about proposed architectural standards, the street layout and connections to the Keystone property. Ultimately, the Department of Community Services recommended the commission approve the rezoning request.
Planning administrator Rachel Kesling said although the proposed design is more modern than the surrounding area, "it will be interesting to see how it blends with the more traditional architecture on Old Meridian and in the existing Alexandria Apartments."
The special studies committee was particularly interested in the likelihood of the hotel coming to fruition, member Alan Potasnik said. The developer said it is working with a national hotel company on the project.
City Council could consider the project at its March 3 meeting.
Please enable JavaScript to view this content.