Classically trained Chef Keith Brooks is cooking up plans for the former Eddie's Corner Café space in downtown Noblesville.
His work-in-progress restaurant dubbed The Ville, expected to open in June at 101 N. 10th St., will offer American comfort food as well as a variety of healthy options. Brooks envisions a family-friendly, full-service eatery.
Brooks will handle culinary duties while his wife, Raquel Washington, manages the business.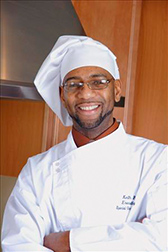 Chef Keith Brooks (Photo courtesy of Special Occasions Catering.)
Born and raised in Gary, the 44-year-old Brooks earned a culinary arts degree from Kendall College in Evanston, Ill., and then went to work for Emeril Lagasse at New Orleans' famed Commander's Palace restaurant. His other experience ranges from a stint at in the kitchen at Red Lobster to a job managing café accounts for Indianapolis-based Crystal Catering.
Since 2005, he has operated—and served as executive chef for—Noblesville-based Special Occasions Catering.
"I have aspired to be a chef since the age of 14," Brooks told IBJ, and learned the ropes by working for other culinary entrepreneurs.
Eddie's Corner Cafe closed in July.
In other area retail news:
— Upscale women's resale shop Clothes Mentor is planning a grand-opening celebration for its Fishers location on March 11. The store at 11670 Commercial Drive sells gently used brand-name clothing, shoes and accessories; it will be the third Clothes Mentor outlet in Indiana. Owners Mark and Kathy Canada also own a Plato's Closet children's resale store on Indianapolis' east side.
— Tucanos Brazilian Grill opens its Hamilton Town Center location March 10. Although wood-grilled meat is the star of churrasco cuisine (Tucanos serves15 different skewers, counting vegetables—and pineapple, of all things) the Colorado-based chain also touts its so-called Salad Festival, which it says includes "more than 70 freshly prepared hot and cold dishes." The 8,800-square-foot restaurant is located at 13225 Levinson Lane, near Noodles & Co. and Paradise Bakery. Lunch runs $15.95, dinner costs $22.95 and kids 6 and younger eat for free with a paying adult. Among the eatery's nine other locations: Fort Wayne.
— With its central Indiana debut about a month away, growing Tex-Mex chain Chuy's is looking to hire about 140 team members for its location at Hamilton Town Center in Noblesville. Chuy's is known for its eclectic décor, so local owner/operator Russell Burns is planning some hometown touches, including a "dog wall" featuring pictures of customers' canines. The restaurant is slated to open April 8 at 14150 Town Center Blvd.
— The Combine Café is under construction at Reynolds Farm Equipment's new headquarters at 1451 E. 276th St. in Atlanta (within sight of U.S. 31). The breakfast-and-lunch spot will be open to the public beginning in mid-March, according to a teaser on the local company's Facebook page. No word yet on the menu, but one commenter suggested green eggs and ham—an homage to Reynolds' "We know green" tagline (itself a reference to equipment-maker John Deere's signature color).
— Blaze Pizza leased 2,400 square feet in Carmel at 12697 N. Pennsylvania St., near Meijer. The California-based chain, which opened a location on Indiana Avenue near IUPUI earlier this year, features a build-your-own pizza assembly line and quick-fire cooking process that delivers custom-made pies in two minutes or so. Chipotle Mexican Grill leased 2,240 square feet of space in the same retail strip.
— Local Italian eatery Mangia! closed its Carmel City Center location on March 1. The restaurant, which moved to the upscale mixed-use development from a nearby strip mall in 2011, had been in business for more than 16 years. (Hat tip to Current in Carmel, which reported the closure March 4.)
— Feel left out during Indianapolis' semi-annual "Devour Downtown" events? Take heart, suburbanites: Northside Nights runs through March 16 at more than 30 participating restaurants, including several north of 96th Street. Find the full list of restaurants and their three-course "value priced" menus (usually $30) here.
 
Please enable JavaScript to view this content.