Planners unveiled conceptual designs for a riverfront park in downtown Noblesville on Wednesday, offering the public a glimpse of what's on the drawing board.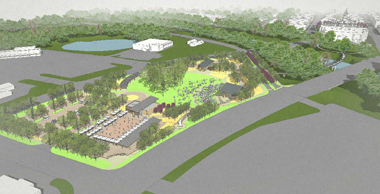 An outdoor amphitheater—dubbed Noblesville Pavilion in the renderings—is the centerpiece of the park, slated for about 7 acres of flood-prone land between State Road 32 and Logan Street west of the White River.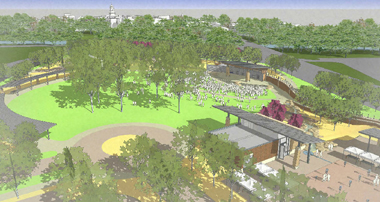 Just as crucial: a pedestrian bridge connecting the park to the bustling courthouse square just past the opposite bank.
City leaders hope to unite the two halves of downtown and spur interest in activity in its so-called Westside Gateway planned-development district.
"We're removing the river out as a barrier—that's a really big piece," said Parks Director Brandon Bennett.
As shown in the drawings, the amphitheater backs up to SR 32 just west of State Road 19 (which would get a tree-lined median to break up the asphalt and slow down traffic). The bridge would stretch from the east side of highway to the Hamilton County Government and Judicial Center.
Noblesville's summer farmers market could set up shop in event space planned for the southwest edge of the park property. As planned, trees would screen a pair of shelters framing the corner of 32 and Nixon Street, and the plaza would double as a splash pad—and maybe an ice skating rink, come winter.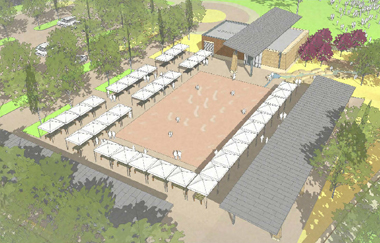 Public restrooms and a small parking lot also are in the works.
With the basic concept done, attention now turns to the details. How quickly the park develops depends in large part on specifics like which building materials will be used—and what they cost.
So, what do you think of the drawings?
Please enable JavaScript to view this content.