Olympic diving coach John Wingfield is moving the Indiana Diving Academy's operations from Bloomington to Noblesville, where he's also looking to build an indoor training center and temporary housing for athletes.
Wingfield, 50, bought the diving academy in 2013 from retiring Indiana University Diving Coach Jeff Huber. This year, its signature Ripfest summer diving camp will utilize the Forest Park Pool in Noblesville and a so-called "dryland" facility in the garage of Wingfield's Geist home.
He hopes to have a dedicated dryland center up and running by next summer. The indoor facilities give athletes the chance to simulate dives in a controlled environment, using trampolines, foam-filled diving pits and ceiling-mounted harnesses.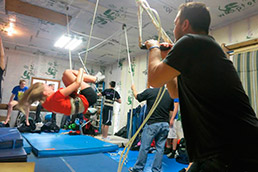 Divers work on their moves without getting wet.(Photo courtesy of Indiana Diving Academy)
"Athletes can typically speed up the time to learn or master a dive with the repetition the dryland center offers," Wingfield wrote in a development application filed with the city.
He and his wife, Tania, are asking to build their center on about 13 acres of land in Noblesville's Corporate Campus, near the intersection of Prairie Baptist Road and 141st Street
Plans calls for a pole-barn-type building of up to 16,800 square feet, plus 10 cabins to house visiting divers. The Ripfest summer camp—billed as the largest of its kind in the United States—is expected to attract as many as 100 divers each week for 12 weeks.
This summer, they'll stay in similar cabins at Pine Lakes Fishing and Camping Resort just off Interstate 69 in Pendleton. Buses will transport them to training.
City planners expressed a preference for semi-permanent facilities on the site, Wingfield said, because of plans to develop the 3,600-acre Corporate Campus as a hub for commercial investment. But it likely will be years before such development makes it that far east.
Wingfield's application makes it clear that anything he builds on the site "could be relocated at such time that a higher and better use" comes along. He said he'll likely retire in 10 years, anyway—after the 2024 Olympics.
"It fits with where I am in my career," he told IBJ.
The head coach of the 2008 Olympic Diving Team, Wingfield has worked with a number of the nation's top divers, including Noblesville's David Boudia (a 2008 finalist and 2012 gold medalist in 10-meter platform diving).
He also served as coach and director of USA Diving's National Training Center in Indianapolis for almost 15 years before leaving for Indiana Diving Academy in 2012. Before his stint there, Wingfield taught and coached at Ball State University.
Wingfield is working now with a group of six elite divers, ages 13-21, to prepare for the 2016 Olympic Games in Rio de Janeiro, Brazil.
Please enable JavaScript to view this content.