Anderson's iconic Wigwam gymnasium could get a new lease on life—literally—if an investment group led by former Muncie Central High School basketball coach Terry Thimlar can score more than $1 million by early June.
Wigwam Sports and Entertainment LLC already lined up financial support from accredited investors in Indiana, Georgia and Texas, and Thimlar said momentum is building as the private placement approaches the halfway mark.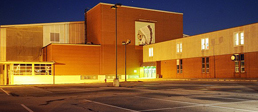 The Wigwam gymnasium needs about $115,000 in repairs to be usable. (IBJ Photo/Andrea Davis)
But organizers also are soliciting community support in the form of donations through crowdfunding site GoFundMe.com. The "Revitalize the Wigwam" campaign has raised about $200 in two months.
Thimlar, now an economics teacher at Cape Coral High School in Florida, nevertheless has high hopes for the 9,000-seat venue, the largest high school gym in the country when it was built in 1962. Anderson Community Schools closed the time-worn facility three years ago to save money.
This month, the school district agreed to extend its deadline to find a new owner for the gym and classroom space, sparing it from the wrecking ball—for now. School board members will revisit the issue at their June 10 meeting.
In the meantime, an outside group including Wigwam Sports and the city of Anderson is covering about $23,000 in utilities and other expenses.
City officials expect to solicit proposals from would-be users of the site early next month; responses will be due in mid-May. If Wigwam Sports or another entity presents a viable, financially sustainable plan for the property, the school district will transfer ownership.
"It will be a competitive process," said Gary Winkler, Anderson's economic development director.  
Still, Wigwam Sports has a head start. Formed in 2012, the group wants to see the venue host events ranging from roller derby to pro wrestling, conventions to concerts. And basketball, of course.
Thimlar has said he'd like the Wigwam to serve as home court for an NBA Development League team, something he knows something about after running a Florida D-League franchise for two years.
"That is something we would like to explore in more detail in the future," he told IBJ.
The gym needs about $115,000 in repairs to be usable, he said.
The goal is to generate enough revenue from gym operations to fund upgrades in the rest of the shuttered high school, though officials are still figuring out how they want to use that space.
"Our major emphasis right now is to continue to bring more investors on board," Thimlar said. "We're working as diligently as we can."
Among the early shareholders: gospel recording artist Bill Gaither and Turner Sports reporter Craig Sager.
The GoFundMe campaign has a $200,000 goal, but Thimlar doesn't expect to come close. Rather, the crowdfunding initiative is an effort to engage the community in the project, he said.
"A lot of people have an interest in seeing the Wigwam saved," he said. "This is a way for everyone to get involved."
Please enable JavaScript to view this content.