Neighbors and at least two members of the Carmel Plan Commission oppose a 34-acre development M/I Homes is proposing along the Monon Greenway just north of I-465.
Plans call for building 43 high-end homes for empty nesters north and west of an existing 12-acre lake on the heavily wooded property. Pedestrian connections to the Monon are planned on either side of the lake.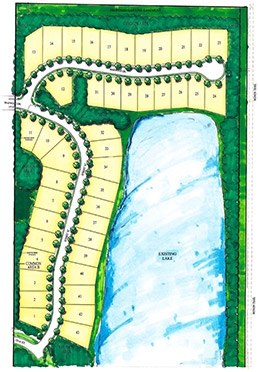 Monon Lake's homes would be built to the west and north of an existing lake. Plans call for two access points to the Monon Greenway, located just east of the property. (Provided rendering)
The builder also has promised to dedicate land along the southern edge of the property to the city for a future western extension of 96th Street, and it is promising to widen and improve county-controlled 101st Street east of Guilford Avenue, one of two entrances to the neighborhood.
Home prices are expected to range from $325,000 to $400,000.
But residents of surrounding neighborhoods are up in arms about the proposal, saying the development runs afoul of the city's subdivision control ordinance and would create unwanted traffic.
Since plans were filed in September, the city has received 23 letters from residents urging officials not to approve M/I's rezoning request, and dozens of neighbors turned out for a Plan Commission meeting this week to show their opposition.
Plan Commission member Joshua Kirsh called Monon Lake a "shoehorn project" that won't get his support.
"I can't get excited about it," he said at the Tuesday night meeting. "That's an area that's beautiful and shouldn't be touched, in my opinion."
Member Dennis Lockwood concurred.
"It's unfortunate when you see a piece of property like this that's so heavily wooded and has a beautiful lake on it" get targeted for development, he said.
The neighborhood will include 22.5 acres of open space including the lake, attorney Jim Shinaver told the commission—far more than the 20 percent required of residential development. M/I also plans to preserve as many trees as possible to provide a buffer around the property.
Access to the site would be via 101st Street and Marwood Drive, which now end just west of the property line.
Neighbors say the residential streets can't handle the additional volume. They also point to the city's comprehensive plan, which calls for the area to be preserved for parks and recreation uses.
A 2001 plan to build 75 homes on the property failed to win city approval.
The Plan Commission's subdivision committee will take up M/I's proposal at its May 6 meeting before making a recommendation to the full 11-member panel.
Residential uses are allowed on the property now, but M/I is seeking to rezone it as a planned unit development. The common maneuver, which applies specific development standards to a project, requires City Council approval.
Please enable JavaScript to view this content.