Plans are in the works to transform the former Lotus Garden restaurant in Carmel into a veterinary clinic with a pet spa, boarding facilities and a future bark park.
Veterinarian Anthony Buzzetti is seeking city approval to renovate the distinctive building at 1085 N. Range Line Road (inside and out) for use as a "companion animal medical/wellness center." A later phase would replace parking with a play area for pets.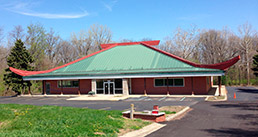 The distinctive roof "wings" on the former Lotus Garden are set to be removed. (IBJ photo)
The 9,600-square-foot facility also will offer dog training, Buzzetti told a Carmel Plan Commission committee this month.
Architect Shawn Curran plans to replace the green metal roof with asphalt shingles. Laminated beams along the roof line will remain, he told committee members, but the "wings" that give the building an Asian flair are set to be removed. He also plans to add a dormer above the entrance vestibule.
An existing house at the rear of the 4-acre site will be remodeled and used to store equipment.
Buzzetti is purchasing the long-vacant property from North Hill Realty LLC. Located at the north end of Range Line just south of Clay Terrace, its assessed value is $1.4 million.
Construction is expected to begin as soon as the Plan Commission OKs the site plan and design.
Two other Buzzetti facilities in Carmel—a medical center at 1455 S. Range Line Road and a wellness center at 12750 Horseferry Road—will remain open, CEO Hal Bond told IBJ.
Please enable JavaScript to view this content.