Longtime Carmel garden center Sundown Gardens is transplanting its operations to Westfield, where it's planning an outdoor showroom and an agritourism-focused retail area.
It has two years to move from its existing facility on five acres of leased land at 13400 Old Meridian St., said Carmel attorney Dave Coots. Neighboring St. Vincent Carmel hospital is acquiring the property.
Sundown Gardens has agreed to buy a 16-acre parcel at the southwest corner of 186th Street and Springmill Road, across the street from Westfield's massive Grand Park Sports Campus. Engledow Group's Litchfield Landscape has been using the property.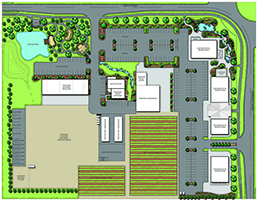 Sundown Gardens is planning an outdoor showroom and ag-focused retail area in Westfield. (Click to enlarge.)
The Westfield-Washington Advisory Plan Commission is expected to consider a rezoning request for the site on Monday to allow future retail uses.
  First things first: Sundown Gardens plans to expand an existing office and build a large greenhouse with attached retail center to supplement two existing greenhouses. An equipment storage building also is planned.
An existing pond at the northwest corner of the property will anchor the outdoor showroom, which Coots said will include a kitchen, fireplace and fire pit in addition to seating areas.
"The idea is that customers can meander through and see what Sundown can do in their backyard," he said.
A water feature with landscaped gardens at the northeast corner—closest to Grand Park—is intended to draw families from the sports park to the planned retail area.
A conceptual plan for the project shows as many as four retail/restaurant buildings along Springmill Road, along with an outdoor shelter suitable for special events. Coots said Sundown Gardens will work with commercial developers to attract "farm-to-family" businesses there.
Founded in 1949, Sundown Gardens is a full-service outdoor center, offering landscaping, groundskeeping, irrigation and turf/tree care in addition to an array of flowers and greenery.
Please enable JavaScript to view this content.