An independent restaurant owner plans to take over the vacant Glass Chimney building in Carmel, transforming it into a family eatery with two outdoor dining areas.
JKB Properties LLC is seeking city approval of its plans to renovate the 6,000-square-foot building at 12901 Old Meridian St., just south of Main Street.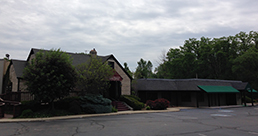 Plans call for reolacing the one-story facade with stone to match the rest of the restaurant. IBJ photo)
The property owner is not ready to identify the future tenant, a representative told the Carmel Clay Plan Commission's special studies committee this month.
Plans call for updating the structure, erected in the 1970s and vacant since fine-dining staple Glass Chimney and casual sibling Deeter's closed in 2011. The main entrance will be relocated to the north end of the distinctive two-story portion of the building, and the one-story façade to the south will be replaced with limestone to match.
The new restaurant will seat about 160 diners inside and more than 50 outside, plans show. The two patio areas—one in front of the building and one behind—will include fire pits.
Development is heating up on the Old Meridian corridor as crews work to make Main Street the main thoroughfare between U.S. 31 and downtown Carmel.
As IBJ reported earlier this year, Indianapolis-based Keystone Realty Group is planning a five-story apartment-and-retail building southwest of the intersection, and apartment specialist Edward Rose Properties Inc. is working on an $80 million mixed-use project dubbed The District on 30 acres south and west of the Keystone site.
Further south, Indianapolis-based Buckingham Cos.' Providence at Old Meridian has a range of dining options, including several local favorites such as Yats and Brockway Public House.
So what's on your wish list for the Glass Chimney site?
Please enable JavaScript to view this content.