Westfield City Council is delaying a decision on a $3 million plan to erect two concrete-and-steel towers at a prominent U.S. 31 intersection.
As IBJ reported last month, the proposal is the result of two years of work by the appointed Grand Junction Task Group, which set out to differentiate downtown Westfield's State Road 32 interchange from other exits along the highway.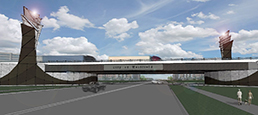 Click to enlarge. (Rendering courtesy of RQAW Inc.)
The council heard from supporters and opponents at a June public hearing and urged others to share their thoughts via email.
Proponents said the so-called placemaking initiative will drive economic development and tie together two major city projects: the massive Grand Park Sports Complex west of U.S. 31 and the ambitious Grand Junction downtown redevelopment plan.
Detractors questioned the cost and scale of the project, which a number of speakers said is too grand for a community founded by the low-key Quakers. Others suggested the money—which will come from the proceeds of the city's recent utility sale—would be better spent on something else.
Council members could have voted on the expenditure tonight, but the measure has been tabled so they can collect more input, said city spokeswoman Erin Verplank.
"They want to make sure they're making the right decision," she said of elected officials including Mayor Andy Cook.
It's not clear yet when the proposal will resurface.
Organizers told the council last month that a decision needs to be made soon, since the Indiana Department of Transportation is working on the interchange as part its massive U.S. 31 overhaul.
Please enable JavaScript to view this content.