A divided Sheridan Town Council agreed Thursday to rezone about 50 acres of land along State Road 47 to allow for industrial uses—clearing the way for a multimillion-dollar business expansion.
Arcadia-based agricultural pump maker Dura Products plans to build a 23,000-square-foot headquarters on about five acres of land on Sheridan's west side, nearly tripling its work force in the next three years.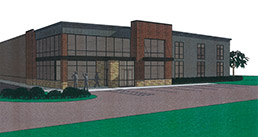 Dura Products is planning a 23,000-square-foot headquarters in Sheridan.(Rendering courtesy of Dura Products)
Founder Pat Molter said Dura has signed 63 distributors for its products since January, putting the company on track for rapid growth. He already is looking to add about five employees to his staff of 12.
Molter expects to break ground on the production-warehouse-office facility at State Road 47 and West Road within 75 days. If all goes as planned, he hopes to have the business up and running in the new location by next fall.
The onetime farmer-turned-salesman launched sister company Pump and Meter Solutions as a sideline, teaching himself how to fix the pumps and meters farmers use to load their agricultural sprayers.
Molter, 50, gave the repair business his full attention about four years ago, when he was downsized from a job in pharmaceutical sales, and starting selling new equipment from other manufacturers at his customers' request.
"When you say 'no' to something enough times, you start to wonder why you're not doing it," he said.
Knowing the "Achilles heels" of existing products prompted him to design his own, and Dura has been in growth mode ever since.
He expects to invest nearly $3 million on the Sheridan facility, located across the street from the town's Countryside Industrial Park. That property, which has been certified as silver "shovel ready," is being marketed to larger users.
The rezoning request by landowner Webster Properties LLC was nevertheless controversial. Neighbors urged the Plan Commission and Town Council to deny the change from commercial zoning, saying they feared the impact on local infrastructure and their quality of life.
Councilors admitted the town's zoning ordinance needs to be updated to include more explicit development standards, and vowed to have that done within 12 month—making it a priority because of an expectation that Hamilton County's explosive growth is headed their way.
"This represents a big step for Sheridan's revitalization," said council member Brenda Bush, who has been leading the effort to diversify the tax base in the 3,000-resident community. "This growth will help sustain us in a different way over time."
To help get the industrial zoning passed, Webster Properties agreed to follow the new development standards for the remainder of its property, which leaders believe will be a big draw for small industrial users.
Council members Silas DeVaney III and Steven Fishers voted against the rezoning request, saying they were concerned about the project's impact on West Road. The town does not have funding available to widen the road, DeVaney said.
Please enable JavaScript to view this content.