Carmel marketing firm Fat Atom's new toy tends to draw a crowd.
Chief pilot Rob Chinn demonstrated the appeal—and capabilities—of the agency's slick white quadcopter on Friday afternoon in Carmel's Center Green, dispatching it into the skies over City Center to capture a bird's-eye view of the Palladium.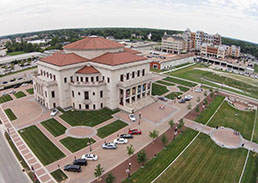 Fat Atom's HAWC offers a new view of old favorites. Click photo to enlarge.(Photo courtesy of Fat Atom)
Dubbed HAWC (for high-altitude wireless camera) and pronounced "hawk," the device shot video and photos at Chinn's direction as he steered with a handheld controller, watching the images it was capturing in live time on his iPhone. Yep, there's an app for that.
Pedestrians making their way to the nearby Monon Greenway stopped to watch as it ascended, red and green lights flashing.
Also the agency's director of video and photography, Chinn taught himself to fly the unmanned aircraft in his rural back yard, and now Fat Atom is putting the device to work on behalf of its customers.
"It's another tool in our photography toolbox," said agency founder Todd Muffley.
Chinn put HAWC through its paces at client Indiana Limestone Co.'s quarries and stone-cutting operation, for example, providing a fresh perspective on the age-old business that CEO (and Carmel resident) Tom Quigley is working to resurrect.
(See some of HAWC's aerial shots of the limestone operation here, in a video produced by IBJ's Dennis Barbosa.)
Fat Atom is working on a website to showcase other potential business uses for the device, which fits into a briefcase when it's not in use. Muffley suggested several possibilities, including flyovers at golf courses or marinas. (The hourly rate: $275.)
The unconventional agency invested about $2,500 in the equipment, which has a 900-foot range and is capable of speeds approaching 25 mph.
Please enable JavaScript to view this content.