Work is expected to begin this month on a $28 million mixed-use project on the site of the Fishers Train Station, which will be demolished to make way for offices, retail and apartments in the burgeoning suburban downtown.
Loftus Robinson Development has grand plans for what's being called Fishers Switch: a three-story retail/office building, a 50-foot-wide pedestrian plaza (with access to the train platform, which will remain in place), and a four-story apartment building wrapped around a 442-space parking garage.
Fishers Town Council OK'd the project in February despite some objections, agreeing to contribute the 3.5-acre train station property, located along 116th Street just west of the Nickel Plate railroad tracks, and up to $9.5 million for the parking garage and streetscape.
This week, council members approved an amendment to the deal that calls for $675,000 of that total to be used to acquire (and build) 6,444 square feet of public space on the ground floor of the apartment building, facing the outdoor plaza.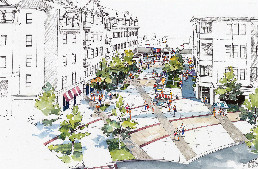 A pedestrian plaza is planned as part of a mixed-used project on the site of the Fishers Train Station. Click to enlarge. (Rendering courtesy of town of Fishers)
Community and Economic Development Director Tom Dickey said it's not clear yet exactly how all the space will be used, but public restrooms accessible from outside are a must.
Other possibilities include a ticket window for the Indiana Transportation Museum, which boards passengers for its annual FairTrain and other excursions in Fishers; a Hamilton County Tourism outpost; a winter farmers market; and a "community room" that could be rented for meetings or special events.
The office building and parking garage are expected to be built first, with work beginning as soon as possible after the property changes hands (possibly this week). Construction of the apartment building must begin within 90 days.
Built in 1996, the existing train station building housed the Fishers Chamber of Commerce and Fishers Town Court. The chamber  relocated to Forum Credit Union's conference center on USA Parkway, and the court is sharing space with the town's technology staff in a former Bureau of Motor Vehicles branch just north of on Municipal Drive.
Tickets for this year's FairTrain are being sold from a tent at the north end of the BMV building.
Work on The Depot, a mixed-use project just west of The Switch, is ongoing, with the first tenants expected to move in this fall. The so-called Central Green—tree-lined open space between the two projects—is scheduled to be complete in October.
Please enable JavaScript to view this content.