An Indianapolis-based development group is moving forward with plans for a CVS Pharmacy-anchored commercial development at the southeast corner of 161st Street and Spring Mill Road in Westfield.
Cooperstown Partners LLC filed a rezoning request for the 7.6-acre site two years ago, but put the project on hold while a neighborhood group worked with city planners to create a vision for the largely residential area.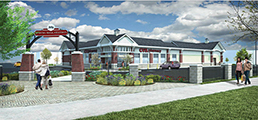 A proposed CVS pharmacy at 161st Street and Spring Mill Road in Westfield was designed with the location in mind. Click to enlarge. (Rendering courtesy of city of Westfield)
"We're patient people," said Jim Adams, one of three Cooperstown principals. "This is a very unique and ultimately a very exciting project. The level of involvement [from neighbors] has been excellent."
Indeed, the intersection has been a point of contention for more than a decade. A heated zoning battle over a shopping center on the northeast corner ended up in court—and spurred the town of Westfield to become a city.
But the Kroger-anchored Springmill Commons, ultimately approved in 2003, was been successful despite the backlash, driving developer interest in the increasingly busy corner.
As IBJ reported in January, neighbors came up development guidelines for what they're calling Spring Mill Station, a railroad-themed neighborhood hub organizers hope will successfully integrate housing and retail. (The theme is an homage to Westfield's railroad heritage.)
Think public art, green space and multiuse trails that create a village feel. Suggested uses include retail, restaurants, offices and health care, with apartments, senior living and the like providing a gradual transition to existing single-family homes.
Their vision has since been added to Westfield's comprehensive land-use plan.
Cooperstown has worked with neighbors to adjust its project accordingly. It has four residential properties under contract and is proposing to develop three commercial buildings: a 12,000-square-foot CVS, 7,800 square feet of multi-tenant retail, and a 20,000-square-foot medical office building.
Its plans also include several walking paths, a train car with outdoor seating and a gazebo and benches where passersby can take a break.
The Spring Mill Station guidelines affected the planned architecture—don't expect a cookie-cutter pharmacy design—and influences thematic elements like the train car, Adams said. The developer also had to adjust the site layout, bringing buildings closer to the street.
If the rezone is approved, construction on the CVS and retail building could start next spring and be complete by late 2015, he said. Now that the neighbors' vision has been finalized, Cooperstown is starting to talk with restaurant operators and other potential tenants.
"We see the light at the end of the tunnel, and it's not a train bearing down on us," Adams said.
The developer also is exploring the potential medical-office space, talking with brokers and hospital groups that have expressed interest in the location.
Adams declined to share estimate construction costs or the project's likely value once the work is complete, saying only that is will be "a substantial number on an important corner."
Westfield's Advisory Plan Commission is expected to vote on the rezoning request in early September. City Council also must sign off. Feedback at an Aug. 18 public hearing was positive, Adams said.
A separate proposal to redevelop a portion of the northwest corner also is pending: Kroger Limited Partnership wants to expand the grocery store—adding outdoor seating and a mural in the process—and expand and relocate its fueling station.
The existing gas station at the corner would be demolished and replaced with a larger facility to the north, more than doubling fueling capacity and making way for more parking and a pedestrian plaza offering seating and a brick path to a nearby Starbucks.
A 1,000-square-foot walk-in attendant kiosk, dubbed Kroger Depot, also is planned.
Please enable JavaScript to view this content.