Keystone Realty Group is asking Carmel to issue $3.8 million in economic development bonds to help pay for parking and site work on a 5.3-acre property it plans to redevelop at the intersection of Old Meridian and Main streets.
Plans for The Olivia on Main call for a five-story building at the southwest corner with 204 apartments and about 14,000 square feet of ground-floor retail (with another 16,000 square feet available for retail, if needed). Parking would be available under the building and in surface lots.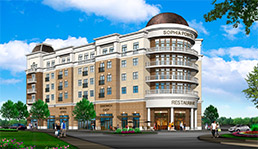 Keystone Realty Group's five-story building will include ground-floor retail along Old Meridian Street. (provided rendering)
The site is located about a mile west of Keystone's Sophia Square apartment-and-retail building in downtown Carmel. That project is named for Keystone founder Ersal Ozdemir's 3-year-old daughter, Sophia. The Olivia is named for her 10-month-old sister.
City officials signed off on Keystone's plans for the property in May. Now Carmel Redevelopment Commission and Carmel City Council are considering the bond request.
Keystone has proposed Carmel carve out the Olivia site from the existing Old Meridian redevelopment area and issue tax-increment financing bonds. The developer would buy and guarantee the bonds, reducing risk for the city and cash-strapped CRC.
The proposal calls for using 75 percent of property taxes generated by the project to repay the debt, with the remainder going to the CRC.
Financial consultants estimated the project would produce tax revenue of about $415,000 once construction is complete. The CRC would get about $104,000 a year to help cover payments on about $486 million in existing debt.
The city approved a similar arrangement for apartment specialist Edward Rose Development Group this month. Rose is planning an $80 million mixed-use project south and west of the Keystone site.
Keystone acquired about three acres of the targeted property from the redevelopment commission in 2011, paying $1.1 million for the corner parcel that was once home to Carmel Apostolic Church. The company later determined the parcel wasn't large enough to develop and acquired additional property to the west. (More from IBJ: Developer planning Sophia Square sequel.)
An existing building, now the headquarters for the Turkish American Society of Indiana, would be demolished, along with several vacant homes nearby.
Bond proceeds would pay for demolition, soil remediation and site grading, Barnes & Thornburg bond attorney Bruce Donaldson told City Council this month.
Carmel's Old Meridian District is drawing developers' attention as West Main Street is poised to become the main route between its Arts & Design District and U.S. 31, which is undergoing a massive overhaul. No interchanges are planned between Main Street and 116th Street once that project is complete.
Originally called Sophia Pointe, the Keystone project was renamed to avoid confusion with the downtown building.
Please enable JavaScript to view this content.