Carmel officials have signed off on Keystone Realty Group's plans to build a five-story mixed-use building southwest of Old Meridian and Main streets.
 
As IBJ reported in February, the Indianapolis developer is proposing 14,000 square feet of ground-floor retail and 204 upscale apartments atop a parking garage, making the most of the narrow 5.3-acre site.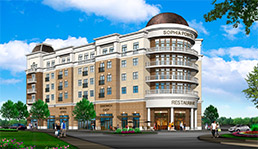 Keystone Realty Group's five-story building will include ground-floor retail along Old Meridian Street. (provided rendering)
The land also slopes down as it nears Old Meridian, forcing designers to come up with a building that is 89 feet tall in places. Keystone had to ask the city to approve the height and other exceptions to established development rules.
Members of the Carmel Plan Commission unanimously approved Keystone's development plan at their April meeting, and the Board of Zoning Appeals this week cleared a handful of related requests.
"It's a challenging site," said City Councilor Kevin "Woody" Rider, also a member of the Plan Commission and chairman of its special studies committee. "We have to concede on height because of the shape of this lot. If we didn't, we'd have a building in Carmel that would make a great ski slope."
Keystone made a number of changes to the proposal during the approval process, Rider and others said, including increasing the amount of brick used on the building façade.
The developer also agreed to provide a connection from the property to The District, an $80 million mixed-use project planned south and west of the Keystone site.
Carmel's Old Meridian District is drawing developers' attention as West Main Street is poised to become the main route between its Arts & Design District and U.S. 31, which is undergoing a massive overhaul now. No interchanges are planned between Main Street and 116th Street once that project is complete.
Improvements to Main Street also are in the works.
Krieg DeVault attorney Paul G. Reis told the Plan Commission that Keystone is finalizing a cost-sharing agreement with the city to pay for road construction and streetscaping near its site.
The city said last week it has secured $4.2 million in state funding to help expand Main Street on either side of U.S. 31; the required local match is at least 10 percent.
Plans call for expanding roundabouts at Old Meridian and Illinois Street to accommodate two lanes of traffic, as well as installing new utility lines, curbs, gutters, storm sewers and sidewalks. Construction could begin this fall and conclude next spring.
Initially dubbed Sophia Pointe, Keystone's Old Meridian project likely will get a new name to avoid confusion with the developer's similar Sophia Square mixed-use building in downtown Carmel. 
Please enable JavaScript to view this content.