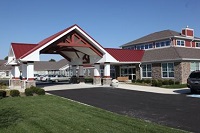 The developer of a proposed senior living campus in Zionsville hopes new efforts to appease neighbors concerned about the project's size are enough to win approval of the controversial development.
Bloomington-based CarDon & Associates Inc. wants to rezone more than 25 acres of land on the south side of West Oak Street near Cooper Road and west of the village to build the campus.
The Zionsville Plan Commission is set to hear the request Feb. 17.
Residents from nearby neighborhoods packed Town Hall on Jan. 20 to voice their opposition to the project, which they say will cause traffic problems and is too large for the area. The turnout was reminiscent of residents' attempts to thwart Walmart's plans to build a store on Michigan Road. That fight remains tied up in the courts.
Indianapolis attorney Matt Price, who is representing CarDon, hopes his client's plans to build the senior living complex won't escalate to that point.
"I think we've made a good faith effort to address the most significant concerns raised," said Price, who leads Bingham Greenebaum Doll LLP's economic development practice.
That includes reducing the size of an assisted living building from three to two stories and trimming the number of units from 330 to 274 (40 assisted living, 84 independent living and 104 skilled nursing units, in addition to 46 cottages).
"What we've tried to do here is make the taller structures impact adjoining property owners as little as possible," Price said.
The Enclave and Russell Lake neighborhoods border the site to the south and east, respectively.
CarDon has under contract the land that encompasses three adjoining properties, including the Windhaven and Chickadee horse farms.
CarDon has one other local senior living project, Hamilton Trace on Cumberland Road in Fishers (shown above), and is building Copper Trace in Westfield at 146th Street and Ditch Road.
Please enable JavaScript to view this content.