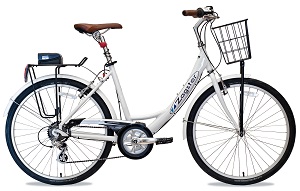 Carmel is poised to become one of the few cities in the state with a bike-sharing program, but other communities including Fishers are hot on its heels.
Mayor Jim Brainard recently announced a $30,620 contract with Boston-based Zagster to bring 16 adult bicycles, six adult-sized tricycles and two docking stations near the Monon Greenway and the City Center.
Rentals will be $3 an hour with a maximum of $24 for a 24-hour period. Bikes are also available for $15 monthly rental or $75 annually for unlimited rides less than an hour long. Additional time would cost $3 per hour, for a maximum of $24 in a 24-hour period.
The city will receive 93 percent of the usage fees, but it will also pay $1,320 per bike per year.
Zagster, which specializes in bicycle sharing systems for communities, hotels, universities and businesses, is scheduled to launch the program in Carmel in less than a month.
Users will create accounts through Zagster's mobile app and receive a code to unlock a specific bicycle, which can be returned to either docking station.
Indianapolis launched the Indiana Pacers Bikeshare service last spring, which rents 250 bicycles at 26 stations along the Indianapolis Cultural Trail. The cost is $8 for a 24-hour pass and $80 for an annual pass. Both allow unlimited 30-minute trips, with longer trips having additional fees.
The two central Indiana cities aren't alone in exploring bike sharing services.
For example, according to its mobile app, Zagster currently operates a program in West Lafayette—rides shorter than two hours are free and $10 for anything longer than that.
A little closer to home, Fishers announced a small program in August as a partnership between the city's Parks and Recreation and Community Development departments. It is supposed to include six single-speed bikes, which cost about $1,800.
Fishers spokeswoman Autumn Gasior said Thursday afternoon there has been some progress with the bike sharing service, but it has been temporarily put on hold.
"We wanted to wait until there wasn't so many closed streets," said Gaisor, who mentioned the construction in the Nickel Plate District, where the bikes would be available to rent.
Residents in Zionsville are at the very least discussing the idea, but a poll on the Zionsville Times Sentinel website shows 40 percent don't believe it's a good idea for the town because those interested in biking already own bikes. About 20 percent of respondents said it would be a good idea. The remaining 40 percent also voted "no" for various reasons.
But in Carmel, Brainard believes it's another step toward becoming more bike friendly. The city already has 125 miles of multi-use paths, and Brainard announced improvements and extensions to several of those earlier this week. Two bike paths are under construction now—136th Street from Keystone Parkway to Gray Road, and Main Street from Keystone to Gray.
Carmel will be one of two Indiana cities deemed "bike friendly" by the League of American Bicyclists with a bike sharing program. The city received a bronze ranking in latest report issued in 2014 by the organization, which awards cities and businesses for their levels of bike friendliness. Indianapolis was also bronze.
Six other Hoosier cities were recognized by the League, including Goshen, South Bend, Bloomington, Columbus, Fort Wayne and Warsaw. Bloomington ranked the highest at gold. The top rating issued is platinum, which four cities have received.
Only one Carmel business, RCI, was on the latest rankings, with bronze status. With the bike sharing program, businesses will have the opportunity to provide additional bicycles and docking stations near their establishments.
Brainard has said if the program is successful, more bicycles could be added. The downtown Indianapolis service had nearly 30,000 trips by riders in the first eight weeks.
Please enable JavaScript to view this content.