It took less than one year for Grand Park to outgrow its capacity.
Westfield's 360-acre sports campus already has 31 soccer fields, and officials intend to plant grass to add the equivalent of seven or eight full-sized fields that can be converted to smaller sizes for youth games.
Grand Park director Kenneth Alexander announced a partnership with the Westfield Youth Soccer Association/Indiana Fire Juniors earlier this week and said the additional fields will be needed to accommodate practices and games.
The local youth soccer league had been set to become homeless by next spring because the Westfield-Washington School Board approved the sale of the land that has been used for decades. The approximately 20 acres of land to the east of Shamrock Springs Elementary School on 161st Street was sold to a private development company for $1.3 million.
The new fields will occupy land at the park that's currently not utilized and will add more parking spaces. The addition will cost an estimated $162,000, plus maintenance expenses. The five-year arrangement is expected to bring in estimated revenues of $357,000.
"We're ahead of expectations," Alexander said about field usage. "We're hoping to move forward with this plan as soon as possible."
According to a recent economic impact study conducted by Phoenix-based Applied Economics, Grand Park had more than 900,000 visitors during its first year including coaches, players and spectators, resulting in an economic impact of $69.2 million.
In 2015, the park is expected to attract 1.26 million visitors and bring in an economic impact of $100 million.
In other Grand Park news, Cambria Suites is on deck to be the first hotel to open in the area. The hotel is under the Choice Hotels brand, which also includes Quality Inn, Comfort Suites and Comfort Inn.
The Westfield Advisory Plan Commission will discuss the project May 4.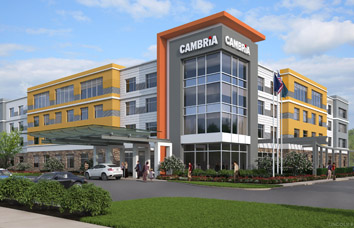 Plans for the four-story hotel, located on 186th Street to the east of Grand Park Boulevard, call for 153 rooms. Construction could begin in August and the hotel could be complete within a year.
According to the research by Applied Economics, slightly more than half of Grand Park's visitors are from out of town. There were more than 260,000 overnight trips in 2014, and about 380,000 overnight stays are expected this year.
Please enable JavaScript to view this content.