The fight over the Religious Freedom Restoration Act may be finished, but communities are still trying to prove discrimination is not tolerated. 
The Whitestown Town Council, for example, considered three pieces of legislation this week regarding one of the issues RFRA brought to light.
Many believed the controversial bill would have allowed businesses to discriminate against gays and lesbians because there was a lack of legal protection for sexual orientation.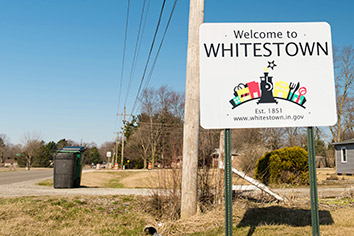 About a dozen municipalities already include sexual orientation or gender identity as a protected class, but most throughout the state don't provide such legal backing. The fallout from RFRA might change that, and Whitestown is among the first to take action.
Earlier this week, the Whitestown Town Council unanimously approved two pieces of legislation declaring the town will not tolerate discrimination against lesbian, gay, bisexual and transgender individuals.
The resolution mimics what the city of Fishers passed immediately following the RFRA uproar and says Whitestown is open and inclusive regardless of sex, race, color, national origin, religion, beliefs, disability, age or sexual orientation.
The Whitestown council also approved an ordinance updating the town's employee manual and adds sexual orientation to the list of traits the town will not discriminate against in regards to recruiting, hiring, training and promoting. Other protected classes already in the manual include race, color, religion, national origin, veteran status, sex, age or mental or physical disability.
It also specifies that the town will ensure all personnel decisions and actions, like terminations, compensation and promotions, will made without regard to those characteristics.
Another ordinance the town council discussed this week—but didn't vote on—would create a human relations committee that would "assist in the elimination of discrimination" in Whitestown.
The commission would have five members, with no more than three affiliated with the same political party, and would meet regularly. Members could accept complaints from the community, investigate claims made and issue rulings. A complaint would be required to be filled within 90 days of the alleged discriminatory act.
The town council is expected to vote on the ordinance creating the commission next month.
In other northern suburb cities, there hasn't been a rush to push forward similar legislation.
Both Carmel mayoral candidates—incumbent Jim Brainard and challenger Rick Sharp—have said they would support taking action, but nothing has surfaced.
Noblesville and Westfield both issued statements in response to RFRA backlash that emphasized promoting diversity. Neither city has introduced legislation on the matter. 
Please enable JavaScript to view this content.