The pieces of the Grand Boulevard and Main Street project in Carmel are starting to come together.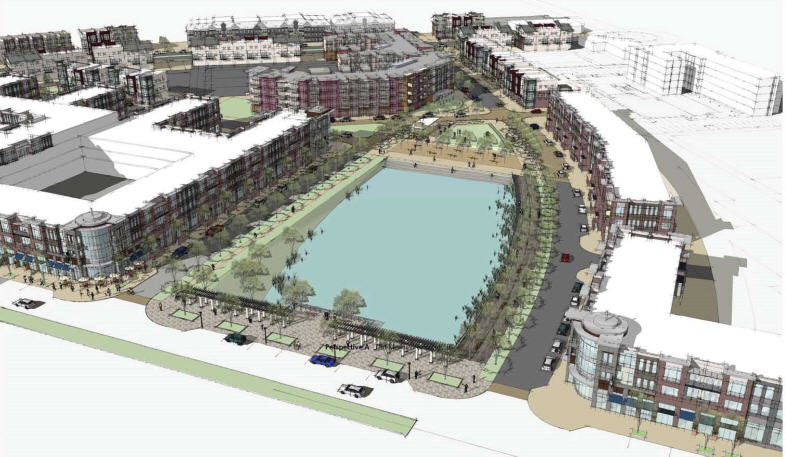 Indianapolis-based Edward Rose & Sons announced the $80 million development in the city's Old Meridian District in January 2014, with intentions of including a senior living facility, hotel, parking garage, retail space and a mix of townhomes and apartments. Nearly all of those components have been designed and await final city approval.
The proposed community would encompass 30 acres southwest of a roundabout at Main and Old Meridian streets. Edward Rose's existing Alexandria Apartments border the property to the west.
Fairfield Inn & Suites by Marriott will fill the hotel slot with a 61,000-square-foot structure. The $11.5 million investment will include a fitness center, pool, meeting rooms and dining room.
Construction is expected to start in the fall, and the project will create an estimated 20 to 30 full-time and part-time jobs.
To the south of the proposed Fairfield Inn & Suites, there will be townhomes developed by Edward Rose but those designs have not been submitted.
Farther south of the townhomes will be Rose Senior Living, which will include 159 units with 69 for independent living, 30 for memory care and 60 for assisted living.
A dining area, theater, cafe, salon, third-floor rooftop terrace, fourth-floor rooftop garden, general store, pub and lounge areas are expected to be within the senior living center. There will be 70 carports and 147 surface parking spots for the 174,308-square-foot facility.
The project should create 50 full-time jobs. Construction could start this summer. To the east of Rose Senior Living will be what's been referred to as the "focal point" of the entire development. The multi-story 305-unit apartment complex will border a pond and several courtyards with space for picnics and events.
The 362,000-square-foot facility will surround a four-story parking garage with nearly 600 parking spaces.
The residential project spans nearly 10 acres and represents a $20 million investment, according to Steve Hardin, an attorney with Indianapolis-based Faegre Baker Daniels who is representing the developers.
The three components were recently sent to Carmel Plan Commission committees for further review.
Please enable JavaScript to view this content.