An economic impact study of a proposed State Road 37 roundabout project predicts there would be $390 million in benefits to the area.
The Hamilton County Board of Commissioners recently reviewed a draft of the economic impact report prepared by Boston-based Economic Development Research Group Inc.
The county has been considering replacing nine signalized intersections with roundabout interchanges as a solution to the heavily congested roadway. The $234 million project would include a six-mile stretch—from Interstate 69 to State Road 32 through Fishers and Noblesville. About 40,000 vehicles travel the four-lane highway daily.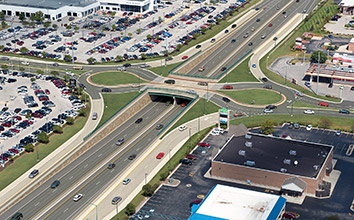 Chandler Duncan, senior planner and economist for EDRG, presented the preliminary report to the commissioners and said the enhancements would result in shorter travel time, improved reliability, lower vehicle operating costs, fewer crashes and reduced emissions. He said the analysis took into account Hamilton County's expected population growth and the results of the reconstruction of Keystone Parkway. The project has regularly been compared to Keystone, which was converted from traffic signals to roundabout overpasses.
Business owners have expressed concerns about losing customers during construction, and after it's complete, as vehicles would be able to continuously travel the road and zip past open businesses.
The report shows the improvements would stimulate $725 million in new business sales within 25 years. During the peak of construction, there would be 635 jobs generated. In the long term, there would be 172 permanent jobs created by 2040.
At least one commissioner wasn't pleased with the study: Commissioner Steven Dillinger said he was disappointed because there wasn't much information on future economic development that could be spurred by it.
Hamilton County Economic Development Corporation President and CEO Tim Monger said he thought the 172 permanent jobs number was low, but the study didn't take into account development on available parcels of land along the six-mile stretch, which could increase the amount of new jobs.
The Hamilton County Council approved spending $80,000 for professional services for the economic impact study last fall. Commissioner Mark Heirbrandt told the council at that time that the study was a "key piece" wanted by Gov. Mike Pence before moving forward with the project.
But the improvements are still years away—design is expected to take three years, and construction could last even longer.
Please enable JavaScript to view this content.