Four more buildings are proposed for The Bridges development just west of U.S. 31 in Carmel.
The addition, brought forward by Indianapolis-based Gershman Brown Crowley, will encompass nearly four acres on the southeast corner of 116th Street and Springmill Road. The largest will be 17,500 square feet, a second building will be 10,600 square feet and a third will be 4,200 square feet. The fourth building will be a 5,500-square-foot retail outlet.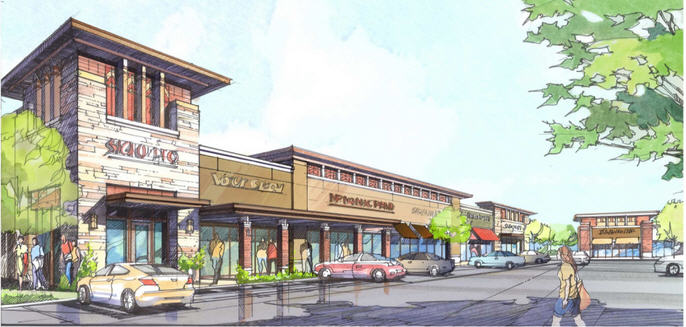 One building will include a drive-thru for a restaurant in the hope of attracting a Starbucks.
When the entire $100 million development was proposed in 2011, plans included a 250,000-square-foot, grocery-anchored center with several outlots for restaurants, banks, a gas station and a pharmacy; about 300 apartment homes or a senior community; and room for about 500,000 square feet of office space.
The 64-acre site already includes a 13,200-square-foot CVS Pharmacy and 9,600-square-foot retail building. In early 2014, plans were announced for a Market District grocery store by Pittsburgh-based Giant Eagle Inc. and a GetGo convenience store and fuel station on the southern part of the property. Construction for those buildings is underway. There's also a McDonald's planned for the east side of the property, along Illinois Street.
The new structures will be south of the CVS, along Springmill Road, and north of the Market District grocery store.
A 5-foot-wide sidewalk will connect the new buildings and provide a path to Springmill Road through a proposed public plaza that will also have outdoor seating availability for two future restaurants.
Initially, the developers sought to build three larger buildings in the area, totaling 43,000 square feet, but divided one structure into two and reduced the overall size to just under 38,000 square feet.
The city approved the controversial rezoning for the entire project in 2011. Nearby residents had concerns about living next to a commercial development, but Gershman Brown Crowley agreed to reduce the impact by limiting building height and including higher berms on the perimeter.
The Carmel Plan Commission could approve the plans for the new buildings next week.
Please enable JavaScript to view this content.