After years of owning the site, the Carmel Redevelopment Commission is moving forward with a plan to sell the former Party Time Rental property.
Carmel-based Anderson Birkla Investment Partners LLC presented a proposal to the commission Thursday night for a potential $60 million mixed-use development with office and retail space, apartments and a parking garage on Rangeline Road near the corner of Carmel Drive.
Anthony Birkla, principal of the real estate development company, said there would be 60,000 square feet of office space and 20,000 square feet for retail or restaurants on the 6.5 acres. Birkla also highlighted 1.8 acres of public green space incorporated into the project and stressed he wants it to become a community gathering place.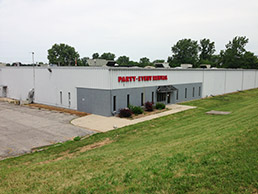 Corrie Meyer, executive director of the commission, said the land was purchased for $3 million and it's currently appraised at $4.35 million.
Anderson Birkla has only offered $50,000 to buy the land, but Meyer said that's because there's a funding gap between tax increment financing revenue available for the project and the developer's investment.
Birkla said it's a $10.5 million public infrastructure investment between relocating power lines, extending roadways, demolishing the building on site, constructing the parking garage and building the public plaza.
The project would bring in an estimated $7.1 million in tax increment financing revenue, and about $5.9 million would be available for the project, leaving a funding gap of $4.6 million.
Commission member David Bowers said the improvements being made on the property that's seen as a gateway into Carmel's downtown will make up for the low selling price.
"It makes good economic sense," Bowers said.
The 50,000-square-foot industrial building has been vacant since the beginning of 2013. In 2011, the commission wanted to make a $3.9 million loan to Indianapolis-based developer Flaherty and Collins to redevelop the property but the council rejected a rezoning request.
Two years later, the Carmel City Council rezoned the property and two adjacent parcels to allow apartment and retail development. The redevelopment commission issued a request for proposals in May 2013, but rejected the two projects brought forward by Flaherty and Collins.
One possibility was a $33.2 million, 265-unit apartment building with a resort style pool and clubhouse, and the other was a $65 million mixed-use project with 450 apartments, 5,000 square feet of retail space and a 500-space parking garage.
The commission unanimously voted to move forward with the sale, which still needs Carmel City Council approval. Meyer said she hopes to have the bond financing in place before the end of the year so construction can start in 2016.
Please enable JavaScript to view this content.