The Kroger on Rangeline Road in Carmel is once again open for business. It had been closed during the $10.8 million renovation and operated out of a former Walgreens building nearby.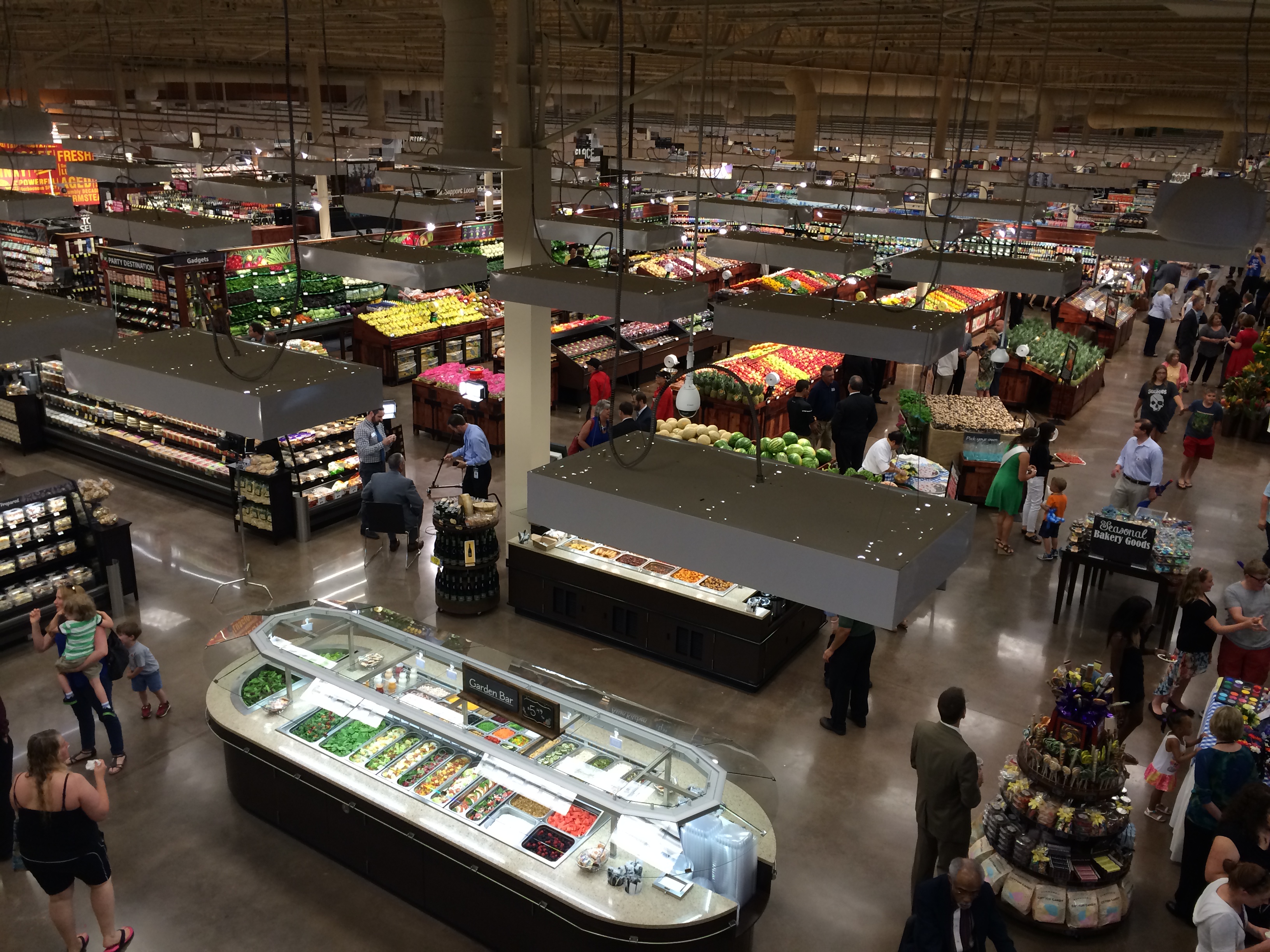 The Cincinnati-based grocery store chain added 20,000 square feet to the Carmel location, 1217 S Range Line Road, plus an 8,000-square-foot mezzanine. The project added 150 jobs.
The 86,400-square-foot store now includes a more natural and organic foods, a cafe bistro with indoor and outdoor seating, expanded alcohol section and increased offerings in the meat, bakery and produce departments.
The renovation is similar to the recently completed project at the Bloomington location on College Mall Road. Katie Wolfram, vice president of merchandising for Kroger's Central Division, said the Bloomington remodel made the store more upscale, and the Carmel expansion built upon that.
It's one of several renovations Kroger has planned for central Indiana as it invests $465 million to improve stores to better compete with other specialty grocers. Austin, Texas-based Whole Foods and Fletcher, N.C.-based Earth Fare already have stores in Carmel, and Pittsburgh-based Giant Eagle is entering the Indiana market with a 125,000-square-foot store under construction on 116th Street between Illinois Street and Springmill Road.
Jeff Burt, president of Kroger's Central Division, said demand for organic food has significantly increased, so the company increased the offerings by 60-percent in Carmel and integrated it throughout the aisles rather than dividing it in a separate section.
Yogurt has also been in high demand, and the store responded with a 52-foot wall of yogurt options.
"We must be crazy," Burt said. "We're not. Customers in Carmel will love it."
More than 300 new wines and 100 beers have been added to the alcohol section, along with New York-based Murray's Cheese Shop nearby. The Carmel Kroger also features sweets from the Broad Ripple Cake Bake Shop.
The Culinary Kitchen located on the mezzanine is unique to the Carmel location. Wolfram said there are a few throughout the country, but it's a new concept for Kroger. The kitchen will offer a variety of cooking classes and can host events.
Spokesman John Elliott said the store will now consider restaurants part of its competition as it markets the new cafe bistro and Starbucks as a lunch and dinner destination.
The two-level seating area has a separate entrance and offers free Wi-Fi to customers. The bistro offers a range of hot food items, including make your own bowls and burritos, sandwiches, pizza, burgers, sushi and "All Things Cheese," which is a variety of macaroni and cheese and grilled cheese options.
"It will be very gooey," Burt said.
Please enable JavaScript to view this content.