Cabela's will officially open in Noblesville on Aug. 20.
A ribbon-cutting ceremony is scheduled for 9:45 a.m. with doors opening to the public at 10 a.m. at the store located in the Saxony development near Hamilton Town Center.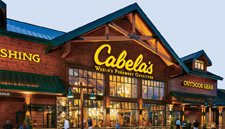 The 82,000-square-foot location at 13725 Cabela Parkway is about half the size of the company's older "legacy" models. It is considered one of the "next-generation" stores, which are more profitable than the larger models, according to the company's financial statements.
The project cost $12.5 million, and the company did not receive any economic development incentives from Noblesville. However, the city did finish an already planned $2.5 million road project to extend Campus Parkway to 136th Street.
The Sidney, Nebraska-based company is hiring 175 full-time and part-time employees for the new store, which is its second in Indiana. The Hammond location, which is 185,000 square feet, opened in 2007.
The store design will be similar to other locations, with an indoor mountain, aquarium, wildlife displays and stonework throughout to give customers an outdoor experience. The Noblesville location will also include a cafe, fudge shop, boat shop, gun library, indoor archery range and bargain cave. Staff will occasionally host seminars and provide demonstrations.
The store will celebrate with weekend-long family events, giveaways and sales.
Sun King opening
In other Hamilton County retail news, Sun King Brewing Co. will officially open its 6,000-square-foot tap room and small-batch brewery in Fishers next week.
The location in the North by Northeast Shopping Center at 7848 E. 96th St. will have a soft opening early in the week and will officially open Wednesday with a ribbon cutting at 11 a.m. and doors opening at 6 p.m. with pints of Sun King and 3 Floyds speciality brews available to purchase.
The tap room and small-batch brewery will include a three-barrel brewing system and is expected to produce 1,500 barrels per year.
The company still plans to open a much larger $8.8 million brewery and event center about a half-mile away, but that facility could be delayed to as late as 2018. The Indianapolis-based brewery initially put those plans on hold while Indiana lawmakers debated barrel production limits.
The Fishers City Council voted last month to extend the $2.5 million economic incentive deal for two years to allow Sun King to finalize the project.
Please enable JavaScript to view this content.