Note: This post has been updated.
Riverview Health is pursuing a new medical facility at a major intersection in Westfield.
The hospital has submitted rendering documents to the city of Westfield that show several multi-story buildings and a parking lot on the northeast corner of State Road 32 and U.S. 31.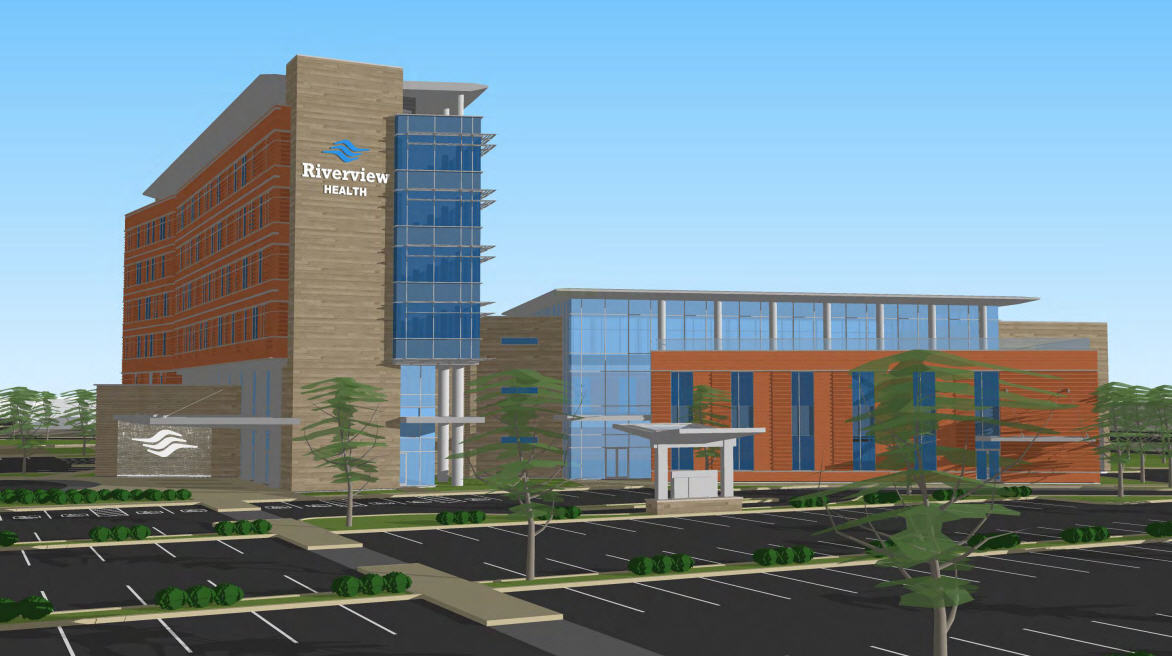 The hospital owns 8.6 acres of land south of Westfield Intermediate School and to the west of Shamrock Boulevard where the old football/track stadium is located.
Riverview Health responded to IBJ's request for comment early Friday afternoon.
Larry Christman, chief operations officer for Riverview, said the estimated 100,000-square-foot facility will be used for outpatient services.
"These include urgent, primary and specialty-care physician services, radiology and laboratory services, rehab services, occupational health services and an outpatient pharmacy," Christman said in a written statement.
He said they expect to break ground early next year and complete the project by September 2017.
Ed Abel, hospital accountant with Indianapolis-based Blue & Co., told IBJ on Thursday that expanding into Westfield is logical for the Hamilton County-owned organization.
"Westfield is a growing market. I'm sure Riverview wants to serve as much of it as they can," Abel said. "They've been successful in their core market and I don't see why they couldn't be equally as successful in Westfield."
Riverview Hospital, with 156 beds, is located on about 15 acres of land along State Road 32/38 in Noblesville.
The highly visible corner property in Westfield has been reserved for a mixed-use development including medical offices for more than a year.
In May 2014, Westfield Washington School agreed to sell the property to a group of local investors for $4 million.
At that time, EdgeRock Development LLC had been planning a $40 million "life wellness" community with land uses including medical, office, fitness, lodging, senior residential, restaurants and entertainment. A two- to three-story medical office building had been expected to be constructed first. But the project has not moved forward.
Westfield City Council is expected to discuss the project at its Monday meeting.
Already in Westfield, Riverview has signed a 10-year, $1.2 million contract for the naming rights to the new football stadium for Westfield Washington Schools and to be the school district's exclusive healthcare provider, offering nursing, sports medicine and an on-site clinic for school employees.
Noblesville officials also continue to wait to hear what Riverview intends to do with an overflow lot at its hospital, which is regularly used for the farmers market. City leaders would like to see the land developed.
Riverview recently circulated an online survey to gather feedback on what patients and residents think about the future of the Noblesville campus and has not announced any projects yet.
Please enable JavaScript to view this content.