Jonathan Byrd's Fieldhouse at Grand Park Sports Campus hasn't officially opened yet, but it's booked solid next year.
Entrepreneur Andy Card, who is leading the investment group behind the $8.1 million fieldhouse, said every weekend in 2016 is reserved for camps or tournaments and 2017 is starting to fill up now.
Card said his team started scheduling events before construction even began in July.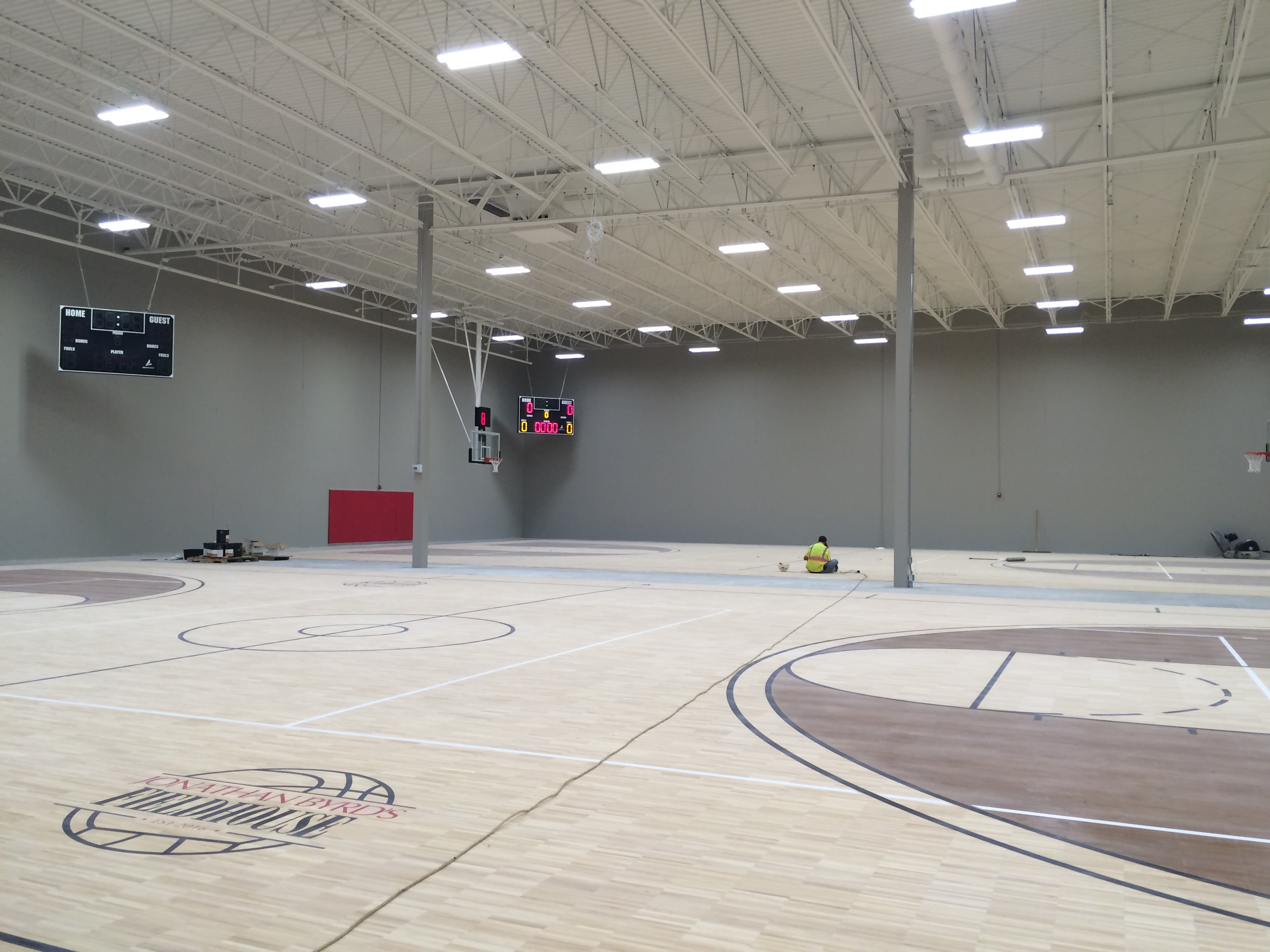 "If we didn't, we would have been on the outside looking in," Card said. Part of the issue, he added, is that teams and organizations need to be able to book large quantities of hotel rooms in advance.
Card recently gave North of 96th a sneak peek inside the basketball and volleyball facility, which is expected to open by Jan. 5, and shared the progress his team has made.
He said the floors should be finished by Christmas, and he hopes to have a certification of occupancy by the end of the year.
"It takes a lot of time to get the courts right," Card said.
The first event—a futsal tournament—will be Jan. 9-10. Futsal is similar to soccer but played indoors with heavier balls. The Futsal Indy Winter Cup is expected to attract 3,000 visitors.
Card said he believes the facility will average 3,000-4,000 visitors per weekend between spectators, players and coaches.
"I'm not aware of a tournament we can't handle," Card said.
A raised mezzanine in the middle of the 87,000-square-foot building will provide seating for 400 people. Visitors will be able to take food from the Jonathan Byrd's food court near the entrance of the facility or from the center's concession stand to the upper level.
The food court-style cafe will offer healthier food options, like wraps, salads and smoothies, in addition to common concession stand items like popcorn and hot dogs.
The upper-level seating section will also be used for college coaches and recruiters, who have to be separated from players to abide by NCAA rules.
Bleachers will surround each of the eight courts on the main level for game watching.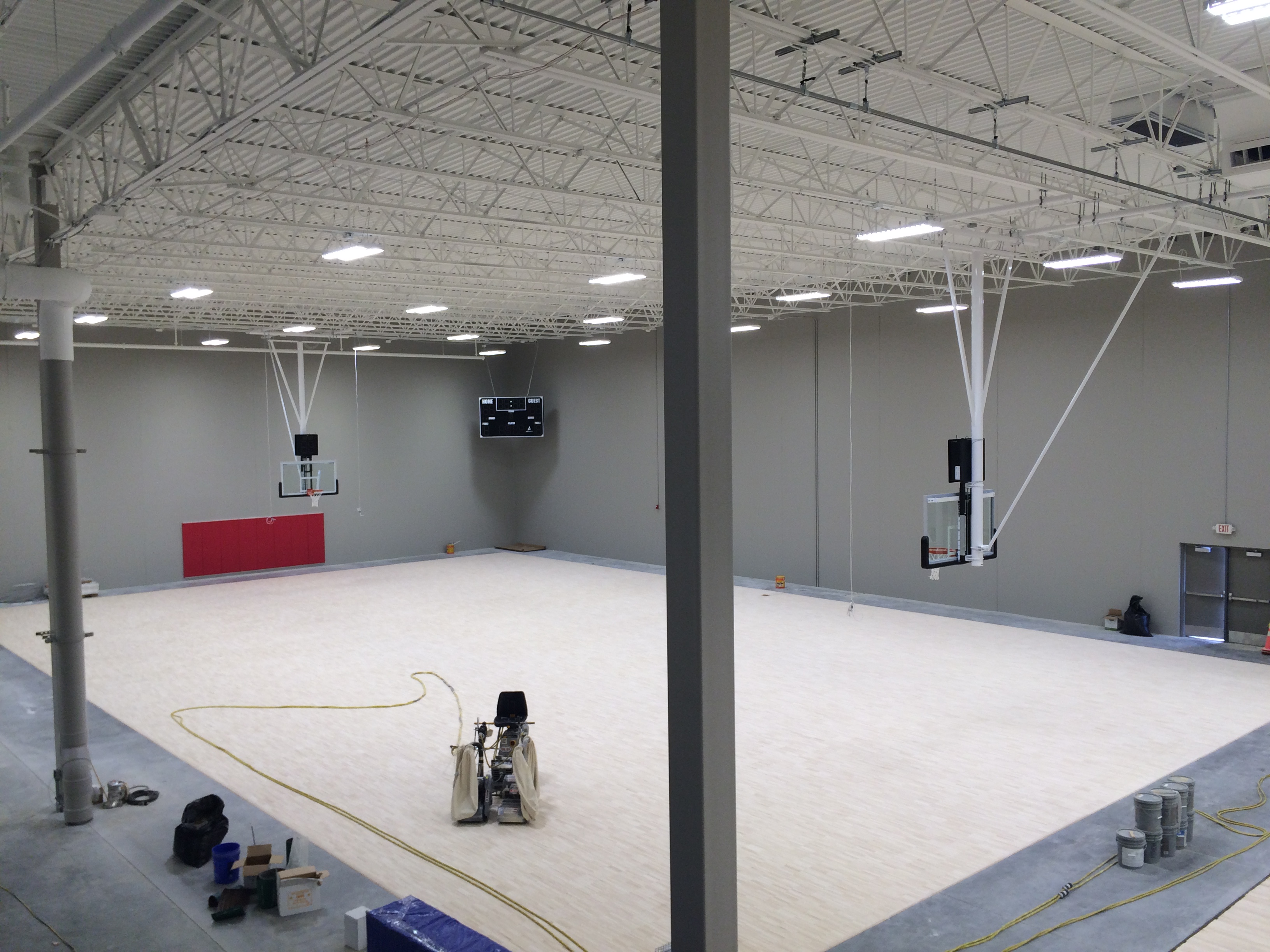 The entire building features LED lighting and is wired for what Card described as "super duper Wi-Fi."
"Everybody that comes in asks, 'How's your Wi-Fi?'" Card said.
Next to the Jonathan Byrd's cafe, there will be a dedicated area for medical and rehabilitation services. Card said his team is talking to several different companies but hasn't finalized a deal yet.
The restaurant and rehabilitation facility are not expected to open until the end of February.
Several programs and leagues have committed to using the facility, including the Indy Juniors Volleyball Club, which is relocating its headquarters from the southwest side of Carmel to the fieldhouse.
George Hill Rising Stars also intends to use it for its G3 youth basketball tournaments, leagues and training sessions.
On a professional level, the Indianapolis Diesel, a minor league basketball team, has signed on to play all of its home games at the fieldhouse. One of the courts has been built to NBA size and standards so professional and college games can be played there, according to Card.
"It's like a game changer for them to play out there," said Rod Sinn, president of operations for the fieldhouse.
Please enable JavaScript to view this content.