Kite Realty Group Trust could be bringing another movie theater to Carmel.
In a recent presentation to investors, the Indianapolis-based real estate investment trust listed plans to add a movie theater to Hamilton Crossing Centre, just to the east of U.S. 31 along Pennsylvania Street and Carmel Drive.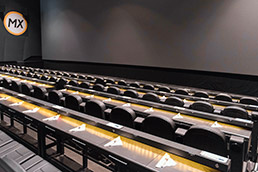 The retail center already includes Starbucks, Chase Bank, Max & Erma's, Le Peep, Subway, Moe's Southwest Grill, Toppers Pizza, Ossip Optometry and Yogurtz, to name a handful.
According to a property listing on Kite's website, the 30,722-square-foot space previously occupied by Office Depot is available, along with three smaller adjacent units to the north. Jason's Deli is on the south side of the vacant space.
Representatives with Kite declined to comment on the topic.
The size of the vacant space seems to suggest it would be a boutique theater rather than a large national chain, according to Eric Hillenbrand, retail broker for Marcus & Millichap.
He said if a national movie theater, like AMC Theatres, were to open there it would likely mean significantly altering the layout of the retail center because it would be too big for the available space.
"Kite has a long view on things," Hillenbrand said. "Maybe there's a bigger play on that."
A spokesman from AMC said the company does not comment on site rumors or speculation.
A smaller boutique theater, possibly like Flix Brewhouse or Studio Movie Grill, could fit into the existing space, though.
Texas-based Flix occupies 39,000 square feet in the former Hobby Lobby space at Merchants Square shopping center off 116th Street and Keystone Parkway in Carmel. It offers eight screens with seating for about 1,000 people.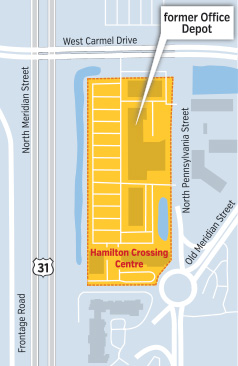 Two of the newest Studio Movie Grill locations—in Philadelphia and just northwest of Los Angeles—have 37,000 and 41,000 square feet, respectively. Studio Movie Grill has one location in the area at 86th Street and Michigan Road.
Hillenbrand said the location of Hamilton Crossing Centre could work well for a movie theater. Typically, theater chains have location restrictions that prevent theaters from being too close together, but this area could be seen as a gap.
The closest theaters include the Regal Cinemas location on 146th Street, which is technically in Westfield, and Flix Brewhouse. Landmark Theatres also has a location at The Fashion Mall at Keystone, just south of Carmel.
"It would make some sense from a geographical perspective," Hillenbrand said.
A movie theater could also help draw potential customers to the existing restaurants and shops. The redesigned U.S. 31 corridor has made it slightly more difficult to access the retail center, but movie theaters don't rely on impulse sales—they are more of a destination.
"It's going to take a little bit more effort to get there," Hillenbrand said. "A movie theater is a nice draw. … That combination would be good."
Please enable JavaScript to view this content.