The northern suburbs continue to be the fastest-growing part of state—and, in Boone County's case, one of the fastest-growing areas of the country.
According to figures released by the U.S. Census Bureau this month, Boone County ranked in the top 100 U.S. counties for highest population growth from 2014 to 2015. It was the only Indiana county to make the list.
Boone County had an estimated population increase of 1,539 residents, which is 2.5 percent growth from 2014 to 2015, ranking the area 92nd in the country. The county has an estimated population of 63,344.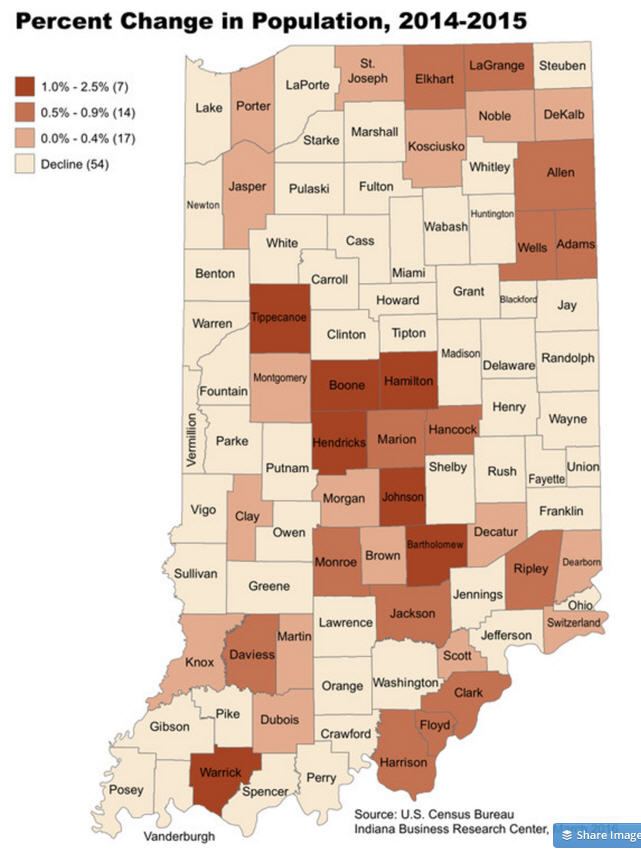 Hamilton County is also still growing strong and made the largest numeric gain in the state by adding 6,419 residents. It had the second-highest population rise in the state with a 2.1 percent increase and an estimated population of 309,697. 
From 2010 to 2015, both Hamilton and Boone counties made the top 100 list for the country. The communities were the only two in Indiana to see double-digit percentage growth in that time period.
The rising number of residents has had local officials on alert for years. The surging population has prompted a handful of infrastructure projects and municipal services upgrades. For example, Hamilton County government officials are working on a courthouse expansion to accommodate the expected growth for years in the future, and Carmel Mayor Jim Brainard hopes to expand the city's police department headquarters.
Traffic congestion on State Road 37 has also worsened over the years, and pushed state and local officials to commit to spending millions of dollars to redesign the highway.
Will the population growth continue? It's certainly expected to, and for the state's sake, it better. More than 50 of Indiana's 92 counties decreased in population from 2014 to 2015, and the state saw only a 0.3 percent growth, which is its second-lowest population increase since 1989.
Please enable JavaScript to view this content.