A well-known Carmel building that has been vacant for almost three years could soon be filled again.
Shapiro's Delicatessen closed its City Center location at 918 S. Range Line Road in June 2013 after years of financial struggles, and the building has been empty ever since as the city has tried to determine the best use and owner for it.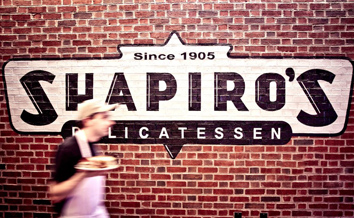 Pedcor Cos., which purchased the building from the Carmel Redevelopment Commission in fall 2014, appears to be close to securing a new tenant.
Melissa Averitt, senior vice president of marketing and sales for Pedcor, said the company has been negotiating a contract with a potential restaurant user that would occupy the entire 11,500-square-foot structure.
"It's a beautiful building," Averitt said. "It deserves something."
Shapiro's broke ground on its Carmel restaurant in 2001, making it one of the first tenants to invest in the City Center development, which had barely started at the time and materialized much slower than expected.
In 2010, the Carmel Redevelopment Commission bought Shapiro's $2.5 million mortgage. The company then made payments to the CRC, but eventually fell behind and stopped paying property taxes.
At the time, local officials suggested that the building had been too much space for Shapiro's, which ultimately led to its closure in 2013.
The restaurant company said closing was a "strategic decision" that would allow it to focus more on the downtown location at 808 S. Meridian St., which remains open.
After taking over ownership, the CRC put the former deli on the market for $2.1 million, then the average of two appraisals, and received two bids in fall 2013.
But it wasn't until October 2014 that the CRC accepted an offer from Pedcor Investments LLC for $2.1 million, which included a $1 million payment and debt forgiveness of $1.1 million for phase one City Center construction.
CRC Executive Director Corrie Meyer said Pedcor had to spend six months after taking ownership searching for a food-related user at the request of the CRC.
"They didn't have any takers that first six months," Meyer said. "Since then, they have widened their search. They are actively working on filling that space."
To read more about the next phase of City Center and Pedcor's plans for the massive development, check out the IBJ issue that publishes Saturday.
Please enable JavaScript to view this content.