Zionsville Plan Commission members spoke publicly for the first time Wednesday night about a proposed mixed-use development for downtown, and several voiced concerns similar to the ones residents have expressed.
The project, dubbed 200 West, involves a 4.32-acre property to the west of the prominent intersection of Sycamore and Main Streets (shown below). It would include a mix of single family homes, multifamily housing that could be condos or apartments, and a retail and office building with space for a restaurant.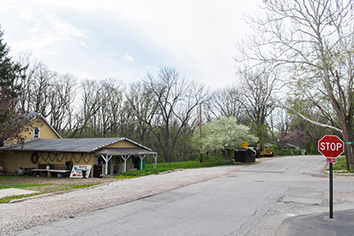 Development group 200 West Partners LLC has requested a custom zoning plan for the land, known as a planned unit development, which requires a recommendation from the Plan Commission and a final vote from the Zionsville Town Council.
After hearing more than two hours of comments from the development team and the public Wednesday night, Plan Commission members had their first chance to ask questions and make comments about the project, and the group appears to be split on whether or not to support the zoning request.
Plan Commission President David Franz said the land is ripe for development, so eventually something will be built there.
"The question is what is the best fit? What is the best use?" Franz said. "I see both sides of the picture."
Other members expressed concerns about allowing a residential development within a tax increment financing district, flooding on the property and the proposed height of the buildings.
Commission member Larry Jones said he wasn't convinced by the developer that the property wouldn't have flooding issues, especially with parking proposed to be on the bottom level of the multifamily building.
"It just doesn't line up," Jones said as the audience of mostly residents opposed to the project applauded.
Jay Parks, vice president for the commission, said he thinks the proposal as written is too vague and provides too much leeway.
"When a zoning change is made, it runs with the land," Parks said.
The Plan Commission postponed voting on the project until its June 20 meeting to give the developer time to refine the proposal and meet with the neighborhood residents' association.
Tim Ochs, a partner with law firm Ice Miller who is representing 200 West Partners, said they're willing to continue working with the town to improve the proposal.
"It is a significant piece of property for the town. There's no denying that," Ochs said. "We think this can be a great project."
Please enable JavaScript to view this content.