The Escape Room is expanding into Fishers. The entertainment venue plans to occupy 6,500 square feet on the second and third floors of The Edge, an office and retail development on the northeast corner of 116th Street and Lantern Road.
The business got its start last year in Indianapolis when it opened in downtown's Station Place, above The Old Spaghetti Factory on South Meridian Street.
Escape rooms have become increasingly popular in the United States and throughout the world.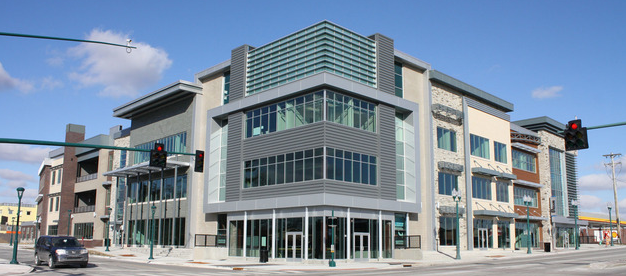 "A year-and-a-half ago people were like, 'Are you crazy?'" said Dan Chillemi, one of the co-owners of The Escape Room. "Now it's getting recognized more as another form of entertainment."
The downtown location, which spans 5,000 square feet, features five rooms of various sizes and themes—a bank lobby, KGB interrogation room, art gallery, jail and Hoosier Hysteria sports room.
Groups of various sizes work together to solve clues and puzzles in order to escape their rooms within an hour. It costs $29 per person.
The Fishers location will feature six rooms and two lounges, making it easier to host private groups and provide space for larger groups, Chillemi said.
Local beer and wine will be served, similar to the downtown location, and catering will be offered as well.
Chillemi said a new attraction at the Fishers location will be two identical racing-themed rooms where groups can compete against each other. A restored 1965 Ford Mustang will be inside each room, and the premise will be that a championship race is about to start but several problems must be solved before the team can compete.
"That one we're pretty excited about because it's a new concept for the escape rooms," Chillemi said.
The Fishers location is expected to open in the fall.
"They're really exciting," said Scott Baldwin, managing broker and owner of RealtyQwest LLC, which is responsible for leasing The Edge. "I think it will be a very unique draw for Fishers."
Other tenants have also signed on to the recently completed $17.5 million development, which includes a 61,000-square-foot, three-story commercial building and 330-space parking garage.
The Well, a Nashville, Tennessee-based not-for-profit coffee shop, plans to occupy 2,000 square feet on the first floor facing Lantern Road. The organization donates proceeds to building wells in countries without access to drinking water.
Two locations are open in the Nashville area, and this would be its first Indiana store. The Well offers coffee drinks, smoothies and meeting space that is open for public use.
Borrowed Boutique, which also donates part of its proceeds to a cause, is leasing 2,200 square feet on the second floor. The online shop, which supports awareness and prevention of sexual exploitation and childhood prostitution, offers rental dress clothing and accessory options for young girls.
It is expected to open in September.
Two tenants have also already opened. Community Health Network occupies 20,000 square feet on the second and third floors of the building and Progressive Eye Care leases 3,100 square feet on the southeast corner of the first floor.
About 8,000 square feet of retail space remains on the first floor, but most of it is being reserved for a steakhouse, according to Baldwin.
"We've had a lot of interest," Baldwin said. "We've just been a little picky."
Baldwin said he feels like there's a "hole in the market" for upscale restaurants in Fishers, compared to what's available in nearby in Carmel or Noblesville.
"Fishers has got Peterson's down at 96th Street and that's really it when you think of a white-tablecloth steakhouse," Baldwin said.
He said he expects a sandwich shop to occupy the north end of the first floor, where there is a lot of windows and outdoor-seating availability.
About 4,300 square feet of space is still available on the second floor, which could be used for offices or shops. Baldwin said the second floor could become similar to the Indiana Design Center in Carmel and feature a variety of unique retail outlets.
"It will be a unique tenant mix," Baldwin said.
Please enable JavaScript to view this content.